Columbus, Ohio USA
Return to Homepage www.shortnorth.com



Arts Impact Middle School makes the grade


June 2000
by Nancy Patzer
Return to Features Index
AIMS Kids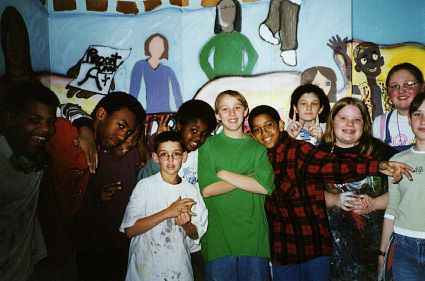 The Short North area is known for its galleries and art stores, theaters and music festivals, but in addition, this district is home to one of the few arts-oriented schools in Columbus. Arts Impact Middle School (AIMS) on West Fourth Avenue is the only middle school in the Columbus Public School System with an emphasis on arts-infused curriculum, where students, grades six through eight, learn traditional subjects through the arts: music, dance, visual arts, theater, photography, and film.
Before AIMS, there were no arts impact middle schools in Columbus. The school emerged from the revamping of several traditional schools. For years, Columbus Public Schools operated alternative/arts-oriented schools like Duxberry Alternative Arts Impact (Elementary) and Fort Hayes High School with no middle school connection. A few years ago, when the Board of Education was looking at the closure and restructuring of some of its schools, it created the Afrocentric School and the Spanish and French Immersion Schools (formerly elementary centers), making them K-8 Centers. At the same time, the arts community was expressing a similar desire for an arts/alternative middle school link. In response to this need, the board created the Arts Impact Middle School.
Everett Middle School closed in order to accommodate AIMS, which was established in its current location with the 1998-1999 school year. Prior to moving to its present site on West Fourth Avenue in the Short North, the school was housed for two years in a temporary site at Sharon Elementary School. Initially there were only about ten teachers at AIMS. In its fourth year of operation, faculty and staff now number around sixty. AIMS produced its first graduating class of 200 students in the spring of last year and recently received a $50,000 grant, an Ohio Governor's
Award, for the increase in proficiency test scores for that same school year. AIMS is the only Columbus public middle or high school to receive the award.
Hallway Mural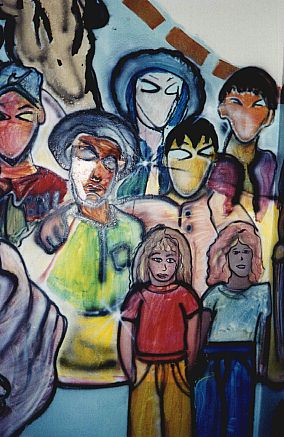 Programs like AIMS and Fort Hayes High School and Columbus Alternative High School (now Eastmoor Academy) have met with so much enthusiasm from students and parents that in October, 1999, school administrators decided to eliminate the waiting list for AIMS. All fifth graders who wish to attend are now chosen by lottery, and many more students apply than are chosen. Applications for all the alternative schools are sent to students at Columbus Public Schools in January of every year. Most students live within the Columbus Public Schools District area, but a few out-of-district students do attend AIMS on a tuition-paid basis.
AIMS Head Administrator Paula Lasley says, "Kids don't come to Arts Impact School to learn how to be singers or dancers. They come to learn the curriculum through the arts. For example, students who are studying about China learn about music, dance, culture, social studies, math, and so on. When they go from classroom to classroom, it's a thematic approach." She adds, "We don't do a lot of paper/ pencil stuff. We do applied, interactive studies."
Curriculum offered under these programs includes all courses of study required by Columbus Public Schools. "The arts can be incorporated into learning in a variety of ways," Lasley explains. For example, one class learns about force and impact by videotaping themselves long-jumping, and then observes the force of the leap as well as the impact. Actually seeing themselves performing these functions helps them understand visually (watching their own motions), tactilely (actually jumping) and technically (learning what muscles perform certain aspects of the jump). In addition, the students learn about the use of up-to-date technological equipment such as digital video cameras. A simple physics lesson, which might otherwise have been taught strictly from a textbook, becomes a wider learning experience.
Emma Johnson, a sixth grader from Clintonville, says her favorite thing about studying at AIMS is the diversity of projects. "We get to do a lot of different things, like the mural we're working on. If we didn't go here, we wouldn't get a lot of these artistic opportunities." Students perform shows and exhibit their artwork at various locations in the neighborhood. One recent exhibit was held at Doctors North Hospital, located a few blocks away. In May, some of the seventh and eighth graders exhibited their artwork in some of the galleries in the Short North and participated in a Gallery Hop arts-sharing event where local artists created their own renditions of students' art. A trip to New Orleans is planned for the seventh graders as an extension of their curriculum. They are studying Mardi Gras, jazz and the history. The trip will incorporate lessons in history, language, social studies, and the arts, all centered around New Orleans.
Leilani Kane, a seven-year veteran of Columbus City Schools, teaches eighth grade Algebra I at AIMS, After spending three years at Champion Middle School and one year at Ridgeview Middle School. She explains some of the differences of teaching in a traditional school versus AIMS: "In this building I'm surrounded by people who teach the same way that I do. At Champion and Ridgeview, I was fortunate enough to be teamed with people who taught the same way I did and shared similar beliefs about teaching. But at those schools, our philosophies were certainly not building-wide. The curriculum isn't different [at AIMS]. It's just that now, I'm surrounded by colleagues who do the same things that I do, and it's not so strange, when we talk about planning time. The entire building does those things."
Teachers plan activities for the students and create projects and extensions centered around a particular subject. "However," Kane explains, "instead of doing those on your own as an academic teacher, while the art teacher is doing a project, the grade-level teacher collaborates along with them. They plan courses of study and objectives together. That way the children, if given a pencil and paper test, wouldn't get the concept. Those students who don't test well and have little success following traditional methods of teaching will gain tremendous knowledge and understanding through an artistic expression of the same lesson. So the arts infusion doesn't replace academics or artistic expression. They're blended."
Kane admits, "Sometimes we can't completely avoid doing pencil and paper tests, and some of the standard assessment methods that the state requires are still used at AIMS. A good example is a science activity dealing with simple machines: levers and pulleys. The art teacher used Rube Goldberg's artwork. Goldberg does exaggerated paintings on simple machines – ridiculous tools that could perform a job like sweeping a porch. So the kids created drawings based on Rube Goldberg's machines, and based those drawings on stories that they wrote in their language arts classes. So the test was their drawing."
Arts are an integrated part of the academic curriculum at AIMS, and academics are an integrated part of an arts curriculum. The two aren't isolated categories. Therefore, kids can be tested on the same subject, and graded by teachers in different areas of the curriculum. Kane says, "It takes a lot of trust and belief in your colleagues as professionals, to have confidence in the assessment of students' work."
Teachers at AIMS note that students respond differently to this type of teaching. Kane observes that "some kids, when presented with a subject the traditional way such as solving math problems, cannot understand the subject material, no matter how often it is presented to them the traditional way. If students are presented with a subject from another (more arts-oriented) point of view, they can demonstrate that knowledge in different ways, instead of taking a pencil and paper test. They do tremendously well and subjects are easier to understand.
AIMS students still have to be prepared for State of Ohio proficiency tests, a process which takes a couple of weeks. Teachers collaborate with each other to create lessons to make sure the subjects they're teaching are relevant to each other, knowing that the students have to take standardized tests in the spring each year. For sixth graders, lessons are truly integrated, with students doing more thematics. In the seventh grade, they start to specialize more in their arts classes, and by the eighth grade students have selected a major course of study. However, they must be prepared to attend traditional high schools.
Currently Fort Hayes is the only high school that offers students continuing emphasis on the arts. And Fort Hayes offers only 150 slots for freshmen from all 28 Columbus middle schools. Because of the demand by students and parents to attend Fort Hayes, many Columbus Public High Schools are improving their arts programs for students coming out of middle schools like AIMS. "We send kids to almost every high school in the city, and the offerings in the arts programs at those schools seven or eight years ago weren't near what they are now. They're offering kids a lot of background, many different choices – classes similar to AIMS curriculum," says Kane.
Kane believes that one reason for the school's popularity is that AIMS provides parents with frequent feedback from teachers on their kids' grades and performance. Every teacher at AIMS gives printed grade reports every two weeks, updating students and parents on their grades. "Parents like the fact that they don't have to wait nine weeks to see how their kids are doing. This way problems in certain subjects can be dealt with in the timely manner and intervention and tutoring can be imple-mented." Kane adds, "I don't know if there's anything we do specifically other than allowing them the opportunity and freedom to come in if they need to,"
Students with learning disabilities and handicapped students are fully integrated into academic and arts classes, with special needs teachers co-teaching with academic teachers. "It's probably one of the best of both worlds, and it's amazing that it still works, as big as we are at this point," says Kane. Average class size at AIMS is 25-30 students. Often there are two teachers co-teaching the same class, for example, an arts teacher and a math teacher. Kane says "maybe that scenario allows the kids to be more successful than they would (at a school) where everyone on a team doesn't necessarily encourage that type of teaching. In all of our classes, the kids sit at a table. That isn't necessarily revolutionary, but they're encouraged to interact with their fellow students."
Kane explains that "Paula Lasley's continued motto is 'all kids are successful, somehow, some way.' And that's why we work so hard to make sure that the arts stay integrated into the curriculum. It's easy to slip back into old patterns and old habits and separate academics from arts, but knowing that there is intelligence aligned with music, and it's there but hasn't been tapped yet. It allows us the opportunity to say, I've got to make sure I work closely with the music teacher, because that kid that I'm not getting is doing something in music, and I need to find out what he's doing so I can get it in math. That's where the motivation is. We get a large population of at-risk kids who traditionally would be asked to leave other schools, get expelled from other schools. At least the program here allows them the opportunity to understand that the intelligence or talent they have can be translated."
In terms of co-teaching two subjects in one classroom, Kane notes that music and art fit with math better than some other arts forms. But teachers try to keep a balance of subjects so students get a well-rounded course of study. Math may be frequently integrated with music, but then social studies often utilizes drama and dance effectively.
Lindsay Ferguson, a student from Westerville says, "We get to try different things like dance and art, instead of just being in the classroom all day." Diana Gerber believes that arts make a difference: "They put Impact on the Arts! Last year they painted a mural on High Street, so when we were on our playground, we could see it instead of having to look at graffiti." Diana notes that her favorite subjects are music and reading. She plays violin, but says that she is also learning keyboard and drums with two different teachers. Student Judith Heiden adds, "Even though we do a lot of art and drama and things like that, we don't forget about academics. There is a really good academic program too."
The girls are in the process of painting a mural in the south entry of the building. When asked about their favorite subjects, each had two favorites, one academic and one arts oriented. Maggie Brown seems proud and protective of AIMS: "This is a really neat school, but a lot of people think this school is in the ghetto. It's not, but even if it were, it wouldn't matter either. There can be great schools in the ghetto."
©2000-2011 Short North Gazette, Columbus, Ohio. All rights reserved.