Micky Bletz, circa 1985. © Photo by Chas Ray Krider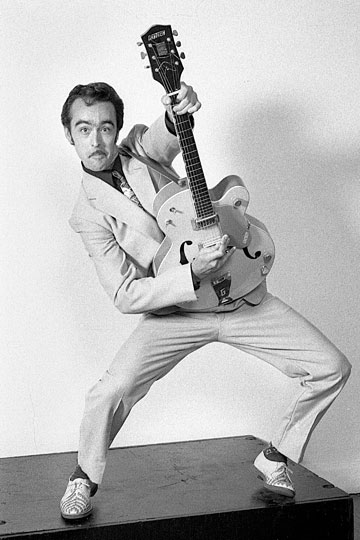 Charismatic Short North business owner and hard rockin' rock and roller Michael "Micky" Bletz died in mysterious circumstances around the beginning of April. He was 55.
Bletz made a name for himself in the 1980s as front man for the Columbus rock and roll band The Burners and also as owner of a number of local businesses, including most recently the Short North's Galeria Zona Corazon, a shop specializing in Mexican, Haitian, and Central American art.
Bletz's daughter, Ramona, 31, found her father dead April 2 in his Victorian Village home. She said the Franklin County Coroner's Office speculated that Bletz died of natural causes, possibly a heart attack. Ramona Bletz, who usually would be in contact with her father daily when he was in town, last spoke with him on March 28, and said her attempts to reach Bletz by phone after that date were unsuccessful.
"He was just so much more than a father. He was my compadre, my go-to guy, the person who always had my back, the one who stood by me no matter what the situation was. He was always there for me. We traveled together, we went out together. We did everything together," Ramona Bletz said. "He was just an incredible person. He was my best friend. He was my everything."
Bletz is also survived by his mother, Beverly Bletz, of Columbus, father Bill and stepmother Jean Bletz, of Hilliard, and five siblings.
"He was a go-cat-go kind of fellow," said Peggy Barry, one of Bletz's longtime friends. "He was a man with a plan. He could get the best musicians and the prettiest girls around him at any moment. He was the pied piper. He always had some idea, and damn if he didn't always bring them to fruition."
When Bletz, a native of Crestline, Ohio, moved to Hilliard in 1966, he immediately met up with other junior high schoolers who were interested in trends in fashion, music and art. Jack Dauben, one of Bletz's boyhood friends, remembers Bletz as a "mod" teenager who borrowed eclectically from flashy, European-inspired fashion trends.
"Part of the whole mod ethic was to be constantly searching out new and unusual and interesting things," Dauben said. "We're talking about a little more flamboyant look that later was appropriated by the shops on Carnaby Street in London."
Dauben, a drummer, and Bletz, a guitarist, also shared an interest in rhythm and blues, and soul music, and in bands, like The Kinks and the Yardbirds, that were influenced by it. Even as a high schooler, Bletz heard blues every weekend at the Valley Dale Ballroom.
But he didn't remain a spectator. LeRoy Scranton remembers when Bletz taught him how to play the bass so he could play a gig at a teen canteen.
"I had never played bass, and so I was sitting in (Bletz's) house and he was showing me where to put my fingers," Scranton said. "We sat up all night, and I really didn't know how to play the songs. He just showed me where my fingers went. I've been playing bass ever since."
In the early 1980s, Dauben and Bletz were the backbone of the rockabilly band Jackie Cupid and the Kooks. Between 2001 and 2005, Bletz co-owned Baffoos, a Grandview skateboarding and snowboarding shop, with former Kooks rhythm guitarist Ricky Barnes.
The original Burners, circa 1984. (Front L to R) Sonny Pill (guitar), Jamie Lyons (vocal), Micky Burner [Bletz] (guitar); (Back L to R) Michael Gene (bass), Jerry Hale (drums), Mike Reed (piano). © Photo by Chas Ray Krider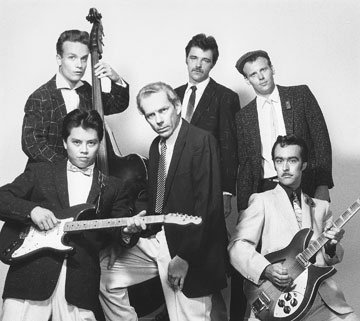 "He was one of those guys who was the most memorable characters in your life," Barnes said. "He was one of the most generous people you're ever going to meet, one of the most loyal people you're ever going to meet. I feel like in my life I've had a few relationships like that, and Michael was one of them."
Between his Jackie Cupid and Baffoos days, Bletz played for other bands, including The Gangsters and The Burners, local stars in the mid-1980s.
"He was a great rock and roll performer," remembers Dan Dougan, former owner of Stache's (later Little Brother's), where The Burners played. "He was a real slick dresser, too. Really natty. He really knew how to style."
The Burners gave a Fourth of July performance in 1986 in the Park of Roses that turned a community get-together into an event to remember.
"Way back in the day, that band rocked," said Bryan Wolfe, an acquaintance of Bletz's. "When they backed Bo Diddley at what I thought would be a neighborhood picnic, there was a show going on there that was way out of proportion from what you'd expect at a holiday picnic. The music was coming hard and fast. It was a great show."
Passion was Bletz's musical trademark.
"He was able to feel a song, not just play the song, but feel the meaning of the song and understand what the song was trying to say and stir in a person," Scranton said. "And he could put his signature on that. He could make a song that you've heard all your life and make it sound familiar, but make it sound different."
Before opening Galeria Zona Corazon in 1998, in the 1980s Bletz operated the Ohio Gallery and later the Ohio Ethnographic Gallery, with Roger McLane. The Ohio Gallery had initially focused on American primitive art, but added Mexican masks and Haitian art when Bletz joined the business. The basement of the Ohio Gallery also was the birthplace of The Burners, who practiced there.
"(Bletz was) very energetic, very exciting to be around. A great musician, adventurer," McLane said. "He got into the art business to a large degree because it allowed him to travel. It was just fun traveling with him. I had the eye for the artwork and he had the business acumen. He'd go to a market with a calculator. I'd pick out the stuff, and then step aside and he'd talk with the people."
Ramona Bletz, who helped run Galeria Zona Corazon, also went on many trips to Mexico and Central America with her father to buy art for their gallery. She said she and Bletz had started closing down the gallery before his death, and had plans to devote more energy to Web-based art sales and other projects. Galeria Zona Corazon is now closed indefinitely.
But Bletz's friends insist he will not be forgotten.
"What did Schopenhauer say? 'You never can disappear as long as people remember you,'" Barnes said. "I remember a lot of great times."