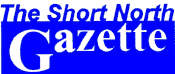 January 2000 Cover Story
BLOOM WHERE YOU ARE PLANTED
By Craig Carlisle
Big Head in Field of Flowers
by Craig Carlisle


Craig Carlisle in San Francisco
Craig Carlisle, a 1988 graduate of the Columbus College of Art and Design, is widely known for his series of Big Head paintings. In the summer of 1997, Craig left Columbus for New York City to pursue his art career. Currently, he is living in San Francisco where he writes to us from his beachfront studio.
Scavenger birds dance in circles around my slow and gentle descent down Ocean Beach, waiting for something to drop from my hand that they can feed upon. Little do they know that I too am a scavenger, waiting for the ocean to thrust upon me some gem washed up along the shore.
The fog is thick, and I am the only one out for a walk this chilly morning. Knowing that I am alone on a sand-filled stage, I feel comforted and sing out. I sing loud enough for my cords to ache and my soul to tremble with joy. The waves pound hard against the shore in reaction to the storm that blew through the night before, together creating a symphony for my unrehearsed song. I am one. Free from the task of the city, free to express my song and purpose. I followed my bliss once more, the love of the sea rewarded me with a new home for my creativity.
San Francisco became my new home in October of 1998. In many ways the city pulled me here and I went along for the ride. In an attempt to recreate the world I had just left in Manhattan, I found myself gravitating toward the heart of the city. Little did I know that every attempt to dwell in the inner-city would fail, that the ocean would pull me, as if knowing what was inevitable.
Today, I live and work just 200 yards from the waves. The people of the beach are natives, familiar with the currents and the storms. They know the fog, and the ocean storms, and respect the ocean's purpose. I am meeting souls that help me understand this unpredictable region that I have chosen as home.
Living by the sea is somewhat like the feeling I had living in central Ohio. When a storm would roar through on a spring afternoon, I would find inspiration. The sky would grow dark and the electricity would disappear. As I sit in a lump of San Francisco fog, I have an emotional reaction and feel the creative juices flow around me. Large, white and motionless, the blank canvas stares at me as if anticipating my evolving feelings. I stand alone, wondering how I can translate my message.
I think of the ocean and how it resembles a finished work of art. Each sunset casting a different light. Some evenings the sun paints the clouds pink. On others it sits alone against a blue sky.
Morning walks on the beach allow me to experience the endless possibilities of creativity. As I step onto the beach, I am immediately comforted by the soft dark sand. In my presence is a vast majestic landscape that can never really be repro-duced. I respect this, knowing that I am in the middle of something much greater than myself. The sight and sound of the ocean seem to reflect my mood rather than dictating it. I feel inspired.
I have learned many lessons from my time with the sea. In a near-drowning experience last year, I was forced to let go of fear while trying to fight a rip tide. It was my first time surfing at Ocean Beach. After several minutes of struggling and
resisting the sea, I knew I was going to die. The figures on the beach were becoming less in focus. Each pounding wave made a statement that I will always remember. Seconds before an angel on a surfboard was to paddle by and pull me to shore, I stopped resisting. I lay silent on my surfboard and my mind grew still. I was one with the sea. The current taught me to be gentle with life and to find inspiration from within.
In August of 1997, I left Columbus Ohio, my home for twenty-two years. I moved to New York City to create a new studio and be with the woman that I loved. Manhattan was a blessing in my life. I met extraordinary people and creat-ed art that allowed me to expand. I communicated with many cultures, and though I didn't speak their language, I continuously adapted and yet never conformed. I was fortunate to have a
storefront studio and showroom which enabled people from around the world to witness my Big Head paintings. I opened my doors and opened the curtain, much as I did in my Grandview studio.
My love and need for earth and sky grew stronger while living in Manhattan. It does not surprise me that I didn't stay there long. While in the city I took advantage of all it had to offer. In NYC I acted like a New Yorker. I walked fast and with purpose. I gave directions to vacationers with ease and pleasure, jumping at a chance to point a finger other than my middle one.
I worked as an assistant to a rooftop gardener in NYC to help make ends meet. This was an experience that was to last a half-year. It took me onto rooftops where I would see once-in-a-lifetime views. I had the opportunity to shake hands and sip tea with some very famous people. I observed their art collections, which clued me into where half of the paintings I studied in art school are now located.
This job taught me many new skills, which may prove a blessing if I ever create a garden of my own. In addition to gardening skills, the work gave me some precious gifts. One thing I will always hold close to my heart is the soul relationship I made with my boss, a very patient Swiss man named Chris. He gave me a garden to labor with everyday, enabling me to exhaust the inescapable pain I was feeling from a heartbreaking separation.
For nearly four years Jeannie and I were together. It was a painful experience to break from such a tight bond, but something that we both knew had to be. The gardening job became a metaphor in my life and my studio. It was a healing experience to rip apart the earth and in its place unite a new innocent flower for others to behold.
I left NYC last year with gratitude and experience. It wasn't easy to walk away from the heartbeat of the material world. I look back knowing my guardian angels were accompanying me.
As I embark upon another chapter in my life, I look forward to the opportunities that San Francisco will offer. I live in a city with a reputation for change and diversity, something that exemplifies my very being. I always knew that the landscape of Northern California resembled the contours in my paintings and each day I gather new reference for my work. San Francisco had always been a destination that I somehow knew I would achieve. When I would look into the eyes of the Big Head paintings, I knew they were telling me to take this leap of
faith. Putting my soul onto a canvas allowed me to see the truth in my life.
Today my studio is once again filled with Big Head paintings. Each one will go its separate way in time, but for now they are here to teach me lessons. Some smile, some pout, but all express feeling and originate with the intent to radiate love and acceptance.
I miss my friends back home in Columbus and the carefree life that I once lived there. However far I am from the mystery that separates me from the place I know as home, I will always remember the banner that hung in my family's home growing up as a child.
It read: Bloom Where You Are Planted.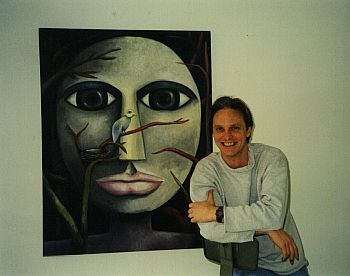 Craig poses in front of his painting
Big Head with Love Bird and Branches.
Craig Carlisle will be in attendance at a showing of his new work at Antiques & Art on Poplar on March 4, 2000. You may also view his work on-line at www.craigcarlisle.com, or he may be reached by phone in San Francisco at 415-227-3058.