Columbus, Ohio USA
Return to Homepage www.shortnorth.com
William Goldsmith
Leading Kids into the Limelight
By Kaizaad Kotwal
October 2000 Issue
Return to Features Index
William Goldsmith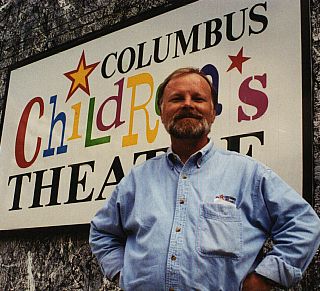 Let's start at the very beginning. A very good place to start.
– Maria, The Sound of Music
Aladdin may have his magic lamp, but William Goldsmith, executive and artistic director of the Columbus Children's Theatre, has the golden touch. And while most magic lamps and their indentured genies usually proffer only three wishes, Goldsmith has had many more of his dreams and wishes come true.
Born in 1950 and raised on a dairy farm in Westerville, Ohio – now underwater at the Hoover reservoir – Goldsmith was the product of a hardworking farmer and a mother who wanted more for her children than she had known because of her less privileged background in a remote part of Kentucky. Goldsmith grew up with three brothers and one sister. They had the "great joy of a hundred acres to play on with tree houses, camping, hiking, hayrides, and forts where everyone wanted to come and play."
Sitting over coffee and deviled eggs in the green room of the Columbus Children's Theatre (CCT), Goldsmith garrulously shared stories about his childhood and theatrical career. He is the consummate raconteur and loves telling jokes that range from the cute to the ones that would make Bill Clinton or Howard Stern blush! When asked why he loves telling jokes, Goldsmith answered that it's something that allows him to play characters and act for his audience everyday.
One of Goldsmith's earliest memories is racing his brother for who could collect the most eggs. On their farm they were put to work gathering eggs as soon as they were old enough to walk. And hard work on the farm during one part of the day gave way to other work with the hands, from piano playing to oil painting, during another part of the day. Goldsmith and his siblings were encouraged to pursue the arts from a very early age and, except for one, the rest of the Goldsmith five have made careers in the arts: John is the director of choral music at the University of Pittsburgh, Joan directs plays at a middle school, and Joe has made a career out of Renaissance fairs across the country.
But the idyllic life on the farm was not to follow Goldsmith into his teen years. By the mid-1960s the farm was not viable for a family with five growing children. His father started to sell insurance part-time and eventually the farm went under. This meant that Goldsmith had "more time for the arts than for shoveling shit." Goldsmith is known to speak frankly and colorfully, although he has learnt to control his tongue in front of his younger thespians.
Goldsmith's first theatrical experience was in the second grade. "Our janitor, Mr. Watt, was retiring," he remembers, "and he loved horses and the PTA decided to give him a saddle. The vehicle for the gift giving was this little play where I played the principal character. I was supposed to try and give away this saddle to a number of people who refused it, and finally I said 'well, why don't we give it to Mr. Watt?'" The janitor who shared the young actor's birthday was overwhelmed and Goldsmith recounts the story with the detail and vigor of a memory no older than yesterday.
That was what made Goldsmith take the bite and plunge deep into the world of theatrical storytelling. For his first full-length play, a nine-year-old Goldsmith was cast in The King of Hearts at Otterbein College. In the basement of Cowan Hall where the play was being performed, was a radio station and an eager and curious Goldsmith would press his young face up against a big glass window to observe the machinations of broadcasting. On one such occasion, lost in his radio reverie, Goldsmith almost missed his onstage cue and was dragged to the stage by the scruff of his neck. But that fascination paid off and he was invited to read commercials on the air.
Life is a cabaret old chum! Come to the Cabaret! – Emcee in Cabaret
"Acting came easy for me," Goldsmith said puffing on a cigarette, something he has struggled to give up time and time again. "I swear I am going to quit again," he said, "but every time I go to England I come back smoking." Goldsmith and his troupe just returned from the Edinburgh Fringe Festival in Scotland where they performed The Druid Tree, an original musical by Joy Reilly based in Irish myth and Celtic folklore. The troupe has been to the same festival before and been successful each time.
In high school, Goldsmith was one of the star performers and he played an assortment of dream roles from Tom in The Glass Menagerie to Friedrich in The Sound of Music. He was an officer in The Thespian Club, read the public announcements each morning at high school and was a member of the band and choir. Goldsmith learned to wear his many hats at a very early age and continues to do so with great ease and success.
"If I hadn't been so short I would have been a football player," said Goldsmith. "I would try out for the team every year but after my freshman trials I gave up." What Goldsmith may lack in height he has certainly made up in terms of his career and his larger than life presence. When it came to picking a college for furthering his theatrical training, Goldsmith had the opportunity to go to Otterbein which was just building its program. He applied to Berkeley, Miami at Oxford, and Bowling Green and ended up going to the last one. "It was 1968 and my parents said 'no way' to Berkeley," joked Goldsmith referring to the days of tie dies and equally colorful drug-induced altered states that were the hallmark of that far away land in California.
Actually, Goldsmith started college at Bowling Green as a pre-dental student but a quarter later he didn't heed the advice he had heard so often to "go out and make money and you can do theatre on the side." "I took all these math and science classes and got good grades but I hated it." Goldsmith was lucky to hear his career epiphany early in life and wasted no time getting down to realizing the dreams he wanted to pursue.
Goldsmith came to theater via speech. "I had enrolled in Speech 101, a course everyone had to take, about four thousand students a year." He ended up winning the annual speech contest and a $500 grant. From that point on, Goldsmith would devote his life to performance. "Bowling Green has a very strong theater department with an incredibly talented group of people," he boasted.
The department did twelve major productions a year and "the directors would fight over students." Students with grants didn't get the option to audition for shows they wanted to be in. Rather, they were cast by the professors. "What this meant was that I got to broaden my horizons and do shows that I might not have normally done." At Bowling Green highlights of his performances included Mandrogala, a musical version of The Mandrake, William Saroyan's The Time of Your Life, and The Fantasticks among others.
But what Goldsmith most valued upon graduating in 1973 was that a liberal arts education provided him with the flexibility and the confidence to do everything he wanted. Goldsmith had graduated as a kind of renaissance man of the theater. His dazzling career at CCT surely bears out that truth!
Follow the fellow who follows a dream. – Finian's Rainbow
Goldsmith never dreamed of ever being in children's theater. Up until that point, he claimed that he had never seen a children's play in his whole life. Being a child of the 1960s, during his fifth and last year of college he had a "spiritual awakening with a program similar to EST called Mind Dynamics. I came out a true flower child," he explained, "loving the world, loving life, and wanting to do something for humanity." Goldsmith found acting to be incredibly "narcissistic and self-serving," and all he knew was that he had to be in the theater.
Then, as life sometimes serendipitously lays opportunities at one's feet, he was cast in the last show of his collegiate career, "a goddamn touring children's show of Little Red. I was pissed," remembers Goldsmith, "because I was in a children's show when I could have been in a classic." He played the villainous fox and what he learned there was that in children's theater "the audience responded with total honesty and if they weren't being entertained then they weren't polite." Epiphany and serendipity conspired and Goldsmith knew that "that's where I wanted to be."
Goldsmith tried a stint in San Francisco where he went with the dreams of starting a children's theater. He managed the Masquers Players for four years. "But I starved and when I came back to Westerville because of my dad's illness, I adapted and directed Snow White and the Seven Dwarfs, he recalled. Goldsmith was back in his high school's stomping ground which had since built a new theater. He went on to work with the now defunct Player's Theatre as their Youth Theatre Director for six years.
From there Goldsmith went on to work for Geoff Nelson and CATCO (Contemporary American Theatre Company) as their managing director. Two years later, he learned that CATCO's neighbor, Columbus Junior Theatre suddenly found themselves without an executive director. "The Junior Theatre didn't have a lot of respect in the community, they were losing money, their fundraising was miserable and the board almost wanted to close the doors to the theater." Enter Goldsmith.
Is anybody there? Does anybody see what I see? - John Adams in 1776
William Goldsmith and cast members take a break during rehearsal to admire Aladdin's lamp. The play Aladdin, based on "The Arabian Nights Tale," runs through October 15, 2000, at the Columbus Children's Theatre.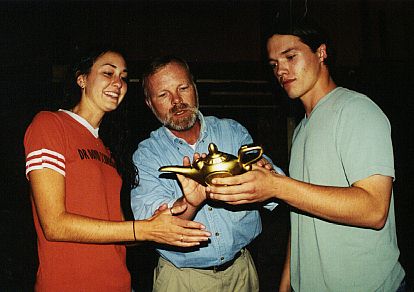 In the fall of 1988, Goldsmith went for the job, and he started in June of 1989 where "being the visionary was very appealing." Under Goldsmith's vision the theatre, renamed Columbus Children's Theatre in 1998, has grown immensely and provided Columbus with some of its best and most memorable theater of the past 12 years. Even before this writer ever knew who Bill Goldsmith was, I had been mesmerized and, as the younger ones would say, "blown away" by some of the theater I had seen at CJT. The company has three components: the Academy which offers a host of classes, a touring company, and the main theater season.
Most of all, Goldsmith has turned out some amazing actors over the past seasons, many of whom are in New York and elsewhere making their dreams come true at careers in theater. Two CJT alums, Michael Milligan and Steven Boyer will graduate from Julliard next year and Jessica Grove who played Dorothy for Goldsmith went on to play the same role in the most recent national tour of The Wizard of Oz with Mickey Rooney and Eartha Kitt.
Goldsmith said he loves to work with children because of "their unbridled enthusiasm," and because "the passion they have is infectious." Training a young actor to become a skilled performer is a privilege and rewarding, he said. The work demands discipline, excellence and commitment, something reflected in the quality of the shows that CCT continues to produce under his direction.
CCT's biggest move was to purchase their facility this past spring. In 1998, CCT moved into CATCO's old space when CATOCO moved downtown to the Vern Riffe Center. "The landlords, the Kitzmiller's, have been the most gracious a non-profit could ask for," said Goldsmith. It is obvious that CCT has grown by leaps and bounds, both in terms of finances and audience appreciation. Today, CCT is the second largest theater in the city and one of the very few to own their performance space. The building will get a new roof in November and a feasibility study will soon begin to determine if the theater can be expanded and renovated with an addition of seats and to handicap accessibility.
But Goldsmith knows that theater is not a business where one can rest on one's laurels, tempting as that may be. Every day is used towards ensuring its survival, and Goldsmith hopes to increase outreach, create more opportunities for kids, and continue to be one of Columbus's cultural gems.
Running one of Columbus's most successful and creative theater companies is no child's play!
Visit www.colschildrenstheatre.org
This page was updated 7-5-10
© 2010 Short North Gazette, Columbus, Ohio. All rights reserved.
Return to Homepage www.shortnorth.com