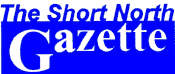 http://www.shortnorth.com
(From the June 2001 Issue)
Doo Dah Past and Present
Bawdy and Brilliant!
By Maria Galloway
It is almost silly season again in the city. No, November is a ways off - it is almost time for the annual (usually) Doo Dah Parade! Every July 4th, you can watch the only parade of inspired lunacy, insipid satire, or downright bad taste verging on the profound or perhaps profane. An Everyman's (Everywomen's, Everywhat-ever's) Parade to air your opinions or dirty laundry or your dog or your dogma. A celebration of free speech and your absolute right to put your foot in it.
The Doo Dah Parade has endured for about fifteen years, in one form of another, and has been the basis of many extended planning meetings where many pitchers of beer have been consumed, all for a good cause, which is planning the Doo Dah Parade. It is supposed to start at 1:00 pm from the west side of Goodale Park and then proceed through Victorian Village for a while until it might find its way over to N. High Street, where it will probably proceed south for a while and then stop, most likely somewhere around Poplar or Russell. At least, that's how it usually goes. Some years they do it backwards. Not walking, just the route. (Although that could be fun; make a note of it!)
The Parade has its roots in the deep need of every neighborhood to parade itself. It helps if you own a fire engine, because then you are halfway there already. Do it on the Fourth of July, throw in a few cute kids, their dogs and bikes, make everything red, white and blue and you have got it. Good, but could be better &endash; what about all those people who inhabit the deep dark drinking dens &endash; wouldn't it be a hoot if they were coaxed out into the daylight at high noon, blinking, their pallid skin blindingly white, turning quickly to deepest red (which of course makes them blue). And all those people with an opinion about everything, and all those people who deep down just wantto be noticed, and all those people who like to watch all of the above. And its all free as in freedom, as in come on down and feel free to join in, join up. Past years have treated us to the Beer Belly Brigade, Marching Fidels and Flamingos, men in tights, transvestites, kazoos, a tuba, lawn mowers, golf carts, political satire, bad taste, red, white and blue dogs, weird bicycles, Gandhi on roller skates, the Pope and a potbellied pig, in case you are looking to steal some inspiration.
The first Doo Dah Parade was July 4th (rain date July 3rd) in the year of our Emperor 1984. It was slated to start at one o'clock from Goodale Park - then to meander through the neighborhood, through the drive-thru at White Castle, down High Street and back to the park. The UnOrganizers of the Parade were nervous; it was 12:30 and only a handful of participants had arrived. All that money spent on beer and security and two color posters - all for naught. But wait! Over the crest of the hill, a flash of light reflects off a tiara. A kazoo rings through the still summer air. Huzzah, they have come! Quick, before they change their minds, the parade takes off! Oh, but look at the time! It is only 12:40! Since the parade proves to be only twenty minutes long, those who arrive on time to witness this wondrous event missed it. A fitting start for a homage to the absurd and the silly and puncturer of the pompous and punctual.
Thus, in 1984, a year that also saw the beginnings of the Gallery Hop, the Doo Dah Parade was born. We did not originate the name or the concept, but we did make it our own. And kept it our own. We (actually Andrew I. Klein, attorney at law and tax preparer 299-6139) had the incredible foresight to register the Doo Dah name. So when Upper Arlington, a humorless realm of green front lawns, decided to usurp our fairly stolen concept and name - we sued 'em. Then the Emperor commanded and we obeyed and invaded and conquered 'em just in time for the 6 o'clock news - much to their chagrin and befuddlement.
Since those halcyon days, the fortunes of Doo Dah have risen and fallen. With success came crowds - with more people watching the parade than were in it. Corporate sponsors (Odd Lots, how perfect), four color posters with hairline color separation. It could only end badly. A Dark cloud of doom was on the horizon, or was it a bright pink water balloon? Water, that giver of life, and flooder of low-lying areas, that nectar of the clouds, rainbow bringer, thirst quencher, water, water everywhere . . . It got out of hand. Super soakers, water balloons, buckets
of water. Musicians were afraid to play their instruments for fear of a direct hit. Stunningly worded satirical signs were washed out to smears by the end of the parade. Fine frocks and feathers were flattened. And then, the last straw: revelers on the fourth floor of a High Street building continued their barrage after the parade had ended and the street had reopened. A convertible was drenched, and a few pedestrians, and then a balloon went dead center on the windshield of a BMW, shattering it. Early, before the parade had started, another balloon had conked a spectator on the head, hurting her neck. Clearly a different type of cooling off period was called for. The parade was canceled. For three long (dry) years there was no Doo Dah. Sure, a few wildcat diehards walked the parade route, keeping the spirit alive and dreaming of the day that the dream they dreamed of so often would come true. And it did.
Now the Parade is once again a neighborhood affair, not so large and grand as when it had radio sponsorship, but we like it that way. It is still silly, and topical, sometimes rated R, sometimes inspired, often stupid (but in a good way). The fact of the matter is that everyone wants to be in a parade - and this parade is for them. It is the democratic ideal of parades. You don't have to be able to play a musical instrument, or have been elected to office, or be beautiful, or have been in space. You do have to be alive (preferably, after all it is hot out), funny, silly, daring, own good comfortable walking shoes (take care of your feet, it is a long walk), be able to carry a sign for a mile or so, have a good idea (or, even better, a really bad idea). Some of the best moments of the parade have been spontaneous - a small pig peeing and peeing and peeing and peeing at the corner of Buttles and High, holding up the parade for what seemed like forever - the patrol car driving backwards at the end of the parade. Some are the ones you see every year - the Marching Fidels and that group of people playing those instruments really badly. Some we would like to see again like the Push Mower Brigade and the fire truck. Some we hope to never see again, like the flashing mayors.
And, so, to close, life is a parade, and if you can't be in it, watch it with the rest of us. And, remember, at the Doo Dah Parade, water and alcohol do not mix. Wear sunscreen and drink lots of cool, clear water.