Columbus, Ohio USA
Return to Homepage www.shortnorth.com

SHORT NORTH ART GUIDE
DIRECTORY OF SHORT NORTH GALLERIES
May/June 2013
April Sunami has an exhibit at Haiku Poetic Food & Art throughout May that explores the theme of hair, body and the feminine. This work is titled Phenomenal Woman ( oil, acrylic, handmade paper beads on canvas).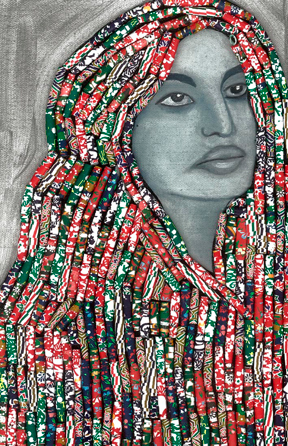 BRANDT-ROBERTS GALLERIES, 642 N. High St., 614-223-1655. Hours T-F 11-5, Sun 12-4. MAY: Artistic Verve: The exhibit will include the two dynamic artistic visions of Maria Alejandra Zanetta and Janet Grisssom. Zanettta creates bold, colorful interpretations of urban spaces and abstract forms in the linocut and collage medium. Working in oils, Grissom produces vibrant, heavily textured landscapes and seascapes that are memorably tactile. JUNE: Robert King estate (mid-June likely). More information can be found at www.brandtrobertsgalleries.com
CATACOMBS ART GALLERY, 17 Buttles Ave, 614-224-0281. Providing exhibition exposure to rising artists. Open every Gallery Hop from 6 - 10 pm. Stop in and support emerging artists who work in many mediums. Exhibited monthly in display window at Buttles/High. Visit www.ekklesiacolumbus.com
*CIRCLE GALLERIES (SEE Muse Gallery)
COLUMBUS EYEWORKS, 25 W. Hubbard Ave., 614-421-2020. Courtesy of Sherrie Gallerie. Please feel free to stop by to view pieces exchanged and updated regularly. The current work featured is outdoor ceramic sculpture by Russ Vogt and crayon paintings by Christian Faur. Obtain more information at www.sherriegallerie.com
*COLUMBUS MUSEUM OF ART, 480 E. Broad St., 614-221-6801. T-W, Th 10-8:30, F 10-5, S-S 10-5:30. Through May 26: Mark Rothko: The Decisive Decade 1940-1950. (Through May 26) CMA celebrates one of the world's most influential and best-known artists of the 20th century, Mark Rothko, featuring 37 works including paintings, watercolors and works on paper drawn largely from the collection of the National Gallery of Art in Washington, DC. Strings Attached: The Living Tradition of String Puppets. (Through August 4) With more than 140 puppets and related set designs, masks, and costumes, dating from the 1850s to the present, Strings Attached explores the rich history of puppetry in the Czech Republic and its influence throughout the world. Through touch-screen monitors, exhibition visitors can view a sampling of productions and watch puppet-makers at work. This exhibition is organized by the Columbus Museum of Art, the College of Arts and Sciences at The Ohio State University, and the Arts and Theatre Institute, Prague. Ed Piskor: Brain Rot (Through June 2) presents original pen and ink drawings by Piskor that were used for comics publications. The exhibition includes more than 30 original pages from Hip Hop Family Tree, Piskor's current project tracking the evolution of Hip Hop from its beginnings in the 1970s as a niche local subculture into the global phenomenon it quickly became. The first collected edition of Hip Hop Family Tree will be published by Fantagraphics this October. Ed Piskor began his comics career at age 21, drawing American Splendor strips written by underground comics legend Harvey Pekar. He has also published the graphic novel Wizzywig about the history of hacking and is currently publishing The Hip Hop Family Tree as a weekly comic at BoingBoing.net. Visit www.columbusmuseum.org
GRID FURNISHINGS, 944 N. High St. 614-725-4292 W-M 12:30-6p. MAY/JUNE: Indra's Net featuring the artwork of Matthew Gallagher, graduating senior at Oberlin College and one of seven winners in the sixth annual Award for Excellence in the Visual Arts competition sponsored by the Association of Independent College and Universities of Ohio (AICUO). "A turning point in my art came when I took a color theory class in fall 2011. I realized that sonic and visual ideas could work in synergy. I began to think of paint as if the medium were akin to the radioactive dye injected into MRI patients. I learned quickly that I could use paint to map energies in a similar fashion. It was then that I began using a rubber band to craft my paintings. I thought of the rubber band as a guitar string or oscillator. The marks it made as I snapped it like a bow string against the canvas were distinctly sonic in a way that I could not reproduce with my hand and a brush. I realized that the energy transferred from the rubber band into the paint was contained in the painting even after the process had been finished. Even though kinetic energy was no longer present in the art object, there was a kineticism to the aesthetic and composition of my paintings that I connected with." Information about Grid Furnishings is at www.GridFurnishings.com.
HAIKU POETIC FOOD & ART, 800 N High St, 614-294-8168. MAY: Poiesis: New Paintings by April Sunami. Poiesis is a Greek term for production or a description of the act of creation. In a new series of paintings April Sunami further explores the theme of hair, body and the feminine through the use of mixed media. JUNE: Peggy Mintun: The Questions I Ask Myself. On abstract, emotional canvases, shape and intense color tell a story to evoke emotions; it is an exploration of adventures had in a certain time period. For more information visit www.peggymintunart.com. Visit www.haikupoeticfoodandart.com, Haiku is open 7 days.
JUNG ASSOCIATION GALLERY, 59 W 3rd Ave., 614-291-8050. T-Sat 11-2 (call first) or appt. MAY 11- JUN 22: Laurie Von Endt, Photographer: A Retrospective. Laurie exhibited her photographs, many hand-colored, in a number of Columbus galleries. She received her MFA in painting from the Chicago Art Institute, where she discovered photography. She was a former art editor of Columbus Alive, and had several positions with Mt. Carmel Medical Center and with Ohio Hospital Insurance Corporation. She died of complications from breast cancer on March 1, 2012, at age 60. Visit www.JungCentralOhio.org
LINDSAY GALLERY, 986 N High St, 614-291-1973. W-Sat 12-6, appt. MAY: The woodcarvings of Columbus artist Stephen Sabo (1903-2002) sat in storage for many years after his death. Sabo had very little exposure in his lifetime but continued to make his artwork over seven decades. JUNE: Paintings by Wallace Peck, a Columbus artist who paints at the Open Door Studio in Grandview, a program for developmentally challenged artists. Opening reception is May 31, 6-9pm. Visit www.lindsaygallery.com
MAC WORTHINGTON GALLERY OF CONTEMPORARY ART, 749 N High St, 614-294-7790. Sun 12-5, T-Th 2-7, F-Sat 11-7. MAY: La Vie en Multicolore. Featuring the art of Dusty Alexander, Jason Amatangelo, David Avery, Miakii, Justin Brennan, Thomas Grebinski, Diane Grumbach, Gail Kern, Jared Kies, Norm Mieczkowski, Daniel Miller, Su Nimon, David Olk, Joss Parker, Lori Penland, Cary Perez, Jan Peyser, Lissa Ramos, Becky Slonaker, Lynn Spaulding, Rona Stelzer, Sean Weber, Mac Worthington, and David Yarnall Artist reception third Saturday from 6 - 9p. Visit www.macworthington.com
MARCIA EVANS GALLERY, 8 East Lincoln St, 614-298-8847. T-Sat 11-5. MAY: Study of Colors with Annette Poitau. JUNE: John Donnelly and Todd Camp
*MUSE GALLERY, 188 and 190 Whittier St. 614-565-8813 Gallery hours are W-Sat. 11-6 pm, Sun. 12-5 pm, and by appointment. MAY/JUNE: New works by gallery artists. www.amusegallery.com
NORTH MARKET, 59 Spruce St., 614-463-9664. From May through October on Sundays 12-5, the outdoor pavilion will be host to a splendid array of artisans peddling their handmade local wares. Shoppers will find a unique mix of artwork, glass, handbags, jewelry, plush, soaps, stationery, textiles and other distinctive locally created goods. www.northmarket.com
*OHIO ARTS COUNCIL'S RIFFE GALLERY, State & High Downtown, 614-644-9624. T 10-4, W,F 10-5:30, Th 10-8, Sat - Sun 12-4. May 2-July 7: Photography's Back to the Future. Curated by Catherine Evans, showcases 10 contemporary artists who illustrate the variety and complexity of the medium by using everything from the earliest photographic processes to the latest digital technologies. In this unprecedented era of smart phone technology, which makes taking pictures more accessible than ever, the artists contemplate the medium's history and reassert photography's role in both contemporary culture and the artistic realm. Artists in the show include: Amanda H. Cook, Columbus; Dennison W. Griffith, Columbus; Lori Kella, Cleveland; Tracy Longley-Cook, Dayton; Rachel Girard Reisert, Cincinnati; Francis Schanberger, Dayton; Jordan Tate, Cincinnati; Garie Waltzer, Cleveland Heights; Janelle Young, Dayton; and Christine Zuercher, Dayton. On Thursday, June 13 from 5:30 to 7 p.m., slam poet Rose M. Smith will host poetry readings, followed by Open Mic. Register for Open Mic at www.riffegallery.org May 6 through June 10. To schedule a tour contact Mary Gray at mary.gray@oac.state.oh.us or 614/728-2239. Visit www.riffegallery.org
*OHIO CRAFT MUSEUM, 1665 W. 5th Ave., 614-486-4402. M-F 10-5, Sat-Sun 1-4. Hours: F-Sat (10-8), Sun (10-5). MAY 5 - JUN 23: Annual members' juried exhibition features 100 works in clay, glass, metal, fiber, wood, and mixed media. It will be on display through June 23, then will travel to the Southern Ohio Museum (July 12 – Sept. 20) and the Springfield Museum of Art (Oct. 8 – Dec. 1). Visit www.ohiocraft.org
PALNIK STUDIOS, 14 E Lincoln St, 614-298-8496. T-Sun 12:30-5. The Clown and The Sage/The Cartoon Art of Paul Palnik. The fine art of the cartoon. Palnik delightfully reveals the profound and the absurd. Paul Palnik's graphics, prints, and original drawings. www.1800cartoon.com.
PM GALLERY, 1190 N High St, 614-299-0860. Hours: Tues-Wed11-6, Th-Sat 11-7, Sun 12-5. MAY/JUNE: City Lights: acrylic paintings by Deane Arnold. The work of over 300 North American artisans and artists: Blown glass, pottery for daily use or decoration, jewelry, kaleidoscopes, wooden boxes and cutting boards, bell, chimes, outdoor whimsies - all made by hand in the U.S. or Canada. Visit www.pmgallery.com

RAY'S LIVING ROOM/CONTEMPORARY ART GALLERY, 17 Brickel St. T-Sat 11-5. Through MAY 14: In Visible : Andrea Myers, Jay Moffett, Kellie McDermott. Sat MAY 18 - Sat JUN 28: Transplanted, Catherine Bell Smith, Mabi Ponce de Leon and Lauren Mudd. Ray's Living Room is a contemporary gallery named after Ray Hanley, former president of the Greater Columbus Arts Council who died in 2006. Owners Kent and Tasi Rigsby. Call 614-228-1150.
RIVET GALLERY, 1200 N. High St., 614-294-8697. T-Sat 12- 7; Sun 12-5. Rivet is designer toy and art gallery selling limited edition collectible designer vinyl toys, DIY art toys, and plush, in addition to presenting excellent works of original art and prints by pop-surreal, lowbrow, and underground artists. Visit www.rivetgallery.com
ROY G BIV GALLERY for Emerging Artists, a non-profit gallery located at 997 N High, 614-297-7694. W-F 3-6, Sat 1-5. MAY: Nicole Crock and David King. Opening reception on Sat., May 4 from 7-10 p.m. The artists will participate in the monthly artists' talk series on Sat., May 25 at 2:30 p.m. JUN: Chinn Wang, David King, Michael Kellner. Gallery Hop opening reception Sat., June 1 from 7-10 p.m. Artists' talk series on Sat., June 29 at 2:30 p.m.
SEAN CHRISTOPHER GALLERY OHIO, 815 N High St, Ste H&N, 614-291-5890. W-F 3:30-5:30, 1st Sat 6-10, 2nd-last Sat 1:30-3:30, and M-Sat by appt. MAY: Matt Wolcott: Progression, abstract paintings. Matt Wolcott is a Toledo artist who recieved his BFA in painting and drawing from The Ohio State University in 2004. JUNE: Sharon Teuscher: Relativity, new paintings. Artist "Gallery Hop" Reception, June 1, 6-10 pm. Visit seanchristophergalleryohio.com

SHARON WEISS GALLERY, 20 E Lincoln St, 614-291-5683 or 614-430-9178. Open Th 12-4, F-Sat 12-5, Sun 1-4. MAY: Moving On, new works by Malcolm Baroway. Opening reception Fri., May 3, 6-8 p.m. JUN: New works by Dave Terry. Reception on Fri., May 31, 6-8 p.m. JULY: Michael Guinane, new paintings. Opening reception Fri., July 5, 6-8 p.m. www.sharonweissgallery.com
SHERRIE GALLERIE, 694 N High St, 614-221-8580. T-F 11-6; Sat 11-5; Sun 1-5. MAY: Ceramic work of artist Julie Woodrow. Julie is an artist as well as an art teacher at Worthington Kilbourne High School. Woodrow throws her form on the potters wheel, then spends hours carving the surface. The work is then either Raku-fired or glazed with sumptuous color and then fired. MAY 11 - JUNE 30: Marilyn Parker's new jewelry collection. Opening Party Sat., May 11 from 12-4p, RSVP. Sparkling silver, sky blue glass, crisp white pearls, and fun lucite neclaces, earrings and bracelets Visit www.sherriegallerie.com
SHORT NORTH TAVERN, 674 N High St, 614-221-2432. MAY: Mindy Duncan, abstract art. JUNE: Jason Pyle, abstract art.
STONE VILLAGE CHURCH GALLERY, 139 E. 2nd Ave, 614-579-5493. MAY: Entangled, a collection of delicate print art of depth and luscious intricacies by Jessica Weathersby. JUNE: Twisted Beauty by artist Christin Hutchinson. Join us for our opening Gallery Hop reception on Sat., June 1 from 5:30 - 8 pm. The exhibit will run through June 28. www.stonevillagechurch.org
STUDIOS ON HIGH, 686 N High St, 614-461-6487. Daily 12-6, Sun 1-6 Talking Art: First Sunday (2-4p) open houses featuring arts demonstrations, family-friendly art activities, and artists discussing their processes. MAY: The Potential of Pastel: Pastel portraits by Sandy Reddig celebrate the beauty, character and personality of our family generations and community along with pastel landscapes and still life. Jeanette Kandray tints translucent polymer clay with pastels to capture the soft colors of nature that add depth and interest to her jewelry. JUNE: First Sunday Open Houses featuring arts demonstrations, family-friendly art activities, and artists discussing their processes. June 2: Scavenger Hunt from 2-4 pm. Joan Zeller discusses glass and ceramic techniques in the creation of her garden totems. Free parking is available in the back. Visit www.studiosonhigh.com
TERRA GALLERY, 8 E. Poplar Ave., 614-228-4188. M-Sat 12-6p. MAY: Spring Salon Show featuring a wide variety of colorful landscape, floral and abstract paintings as well as glass, metal, and ceramic sculpture. www.terra-gallery.com

TRAVONNA COFFEE HOUSE, 1195 N. High St., 614-725-4151. Open 24 hours. MAY: Sci-Fi Show: Artist interpretations of Star Wars, Star Trek, Dune, Aliens, various superheroes, etc. Features artists Rachael Barbash, Mystie Dragonfly, Donna Estep, "Heckman By Choice" (Andrea Heckman), Jocelyn Kane, Mitchell Lippencott, Johnny Patton, Steven Riggs, Bradley Strout, Kris Cun Tasaurus. JUN: Flowers and Nature, with regular featured artists. www.travonnacoffee.com
WHAT THE ROCK?!, 1194 N. High St. 614-294-9428. T-R 12-7, F-Sat 12-8, Sun 12-6. MAY: Garden of Grunge. During this exhibit, inspired by sludge found if the late '80s and the early '90s, Columbus artist Bryan "Bam Bam" Grey presents all new works at What the Rock?! as part of the continuing artist window installation series. Visit www.whattherock.com