NOVEMBER/DECEMBER 2014
Past and Present in Granville, (oil on linen, 11" x 4")
by Short North resident Ruth Gless, included in the Ohio Arts Council's Riffe Gallery exhibit The Urban Landscape:A Tale of Grandeur and Abandonment. The show ends on January 11, 2015.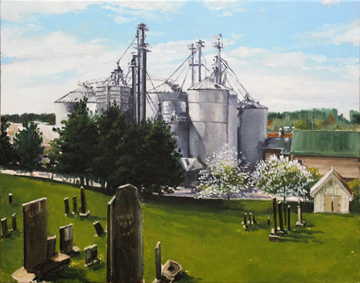 THE ARCHIVE: Fine Art and Restoration, 815 N. High St., Ste B., 614-636-5206. Hours W-Sun 12-6. Vintage/mid-century/modern artwork displayed on rotation. Oil paintings, watercolors, charcoal drawings, lithographs, mixed media. On-site fine art restoration studio specializes in canvas and panel paintings. Visit www.thearchivegalleries.com and www.archiverestoration.com
BRANDT-ROBERTS GALLERIES, 642 N. High St., 614-223-1655. Hours T-Sat 11-5, Sun 12-4. NOV: Echoes of Place, Curt Butler with artist's reception on Sun., Nov. 9, 1-3p. Capturing both recognizable Columbus scenes as well as undiscovered settings, his luminescent paintings function as a memory on canvas, working with delicate encaustic, a melted beeswax, fusing it with oil paint and building up layers of color that resonate with a subtle waxy sheen. Butler often scratches into the painting's surface, revealing the layered history of its creation, contributing to the overall sense of memory. DEC: These Are a Few of My Favorite Things, a showcase of the gallery's contemporary artists' interpretation of their favorite things. With a winter chill in the air and the gallery's doors open late, These Are a Few of My Favorite Things will be the perfect chance to warm up while enjoying the district's holiday displays. Visit www.brandtrobertsgalleries.com
*COLUMBUS MUSEUM OF ART, 480 E. Broad St., 614-221-6801. T-W, Th 10-8:30, F 10-5, S-S 10-5:30. Paul-Henri Bourguignon: 50th-Anniversary Retrospective (Ends Jan. 18, 2015) In 1964, the Columbus Museum of Art held an exhibition of the work of Belgian artist Paul-Henri Bourguignon (1906–1988). Fifty years later the museum celebrates the work of this talented visual artist, who was a prolific writer and journalist, a skillful photographer, and an avid observer of the human condition. One critic noted, "When Bourguignon concentrates on faces, the pathos of the human condition stands out." Bourguignon began his arts studies in Brussels' Académie des Beaux Arts and then studied art history at the Université Libre de Bruxelles. His first solo exhibition was at the Galérie d'Egmont in Brussels at age 22. He met his wife, Erika, in Haiti and they settled in Columbus in 1950 after she joined the faculty of The Ohio State University. Today, his widely collected works are found in American museums and in public and private collections throughout the U.S. and Europe, including the Columbus Museum of Art. In _ We Trust: Art and Money (Ends Mar. 1, 2015) Money. It is a simple fact of everyday life, as well as, a fundamental principal of our social, political, and economic order. It is a medium of exchange, an index and store of value, and a universal equivalent into which most anything can dissolve. It connects, defines, and divides nations. It is pocket change and dead presidents. It is the key to happiness and the root of all evil. It has no intrinsic value apart from what we've given it. Money is an idea, a social contract, and one that depends on frequently-tested collective emotional states like trust, faith, and confidence. With work by more than 20 artists and collectives from diverse international backgrounds, the exhibition In __ We Trust addresses this complex nature of money, as well as, its relationship to art. Works in the exhibition take currency as a material or subject, involve transactions, precious materials, and alternative forms of exchange. Anchored by select pieces from previous decades, the exhibition focuses on work made since the 2008 financial crisis. Artists include JSG Boggs, Sarah Cain, Susan Collis, Moyra Davey, e-flux Time/Bank, Claire Fontaine, Tom Friedman, Meschac Gaba, Ryan Gander, Roger Hiorns, William E. Jones, Komar & Melamid, Gabriel Kuri, Shane Mecklenburger, Cildo Meireles, Ester Partegas, Paul Ramirez Jonas, Hugh Scott-Douglas, Superflex, Mark Wagner, Nari Ward, Andy Warhol and Robert Wechsler. Together, they explore issues of representation, value and exchange that have both personal and global impact. Ori Gersht: Still Life (Ends Jan. 4) In partnership with the Pizzuti Collection, the Museum presents an installation of work by highly acclaimed artist Ori Gersht. Born in Israel and based in London, he has created a body of photographic and video work that combines exquisite beauty with memories of violence and historical trauma. Recalling romantic landscapes and 18th-century still life paintings, the work is rich with art-historical allusions, but also suggests ongoing political conflicts. Looking at his work is to feel suspended in time and caught within the layers of history. Concurrent with this exhibition, the Pizzuti Collection will be showing a film series, Ori Gersht: Portraits, three forceful video portraits, each connecting moments of quiet contemplation with violent histories and anguished realities. Visit www.columbusmuseum.org
HAIKU POETIC FOOD & ART, 800 N High St, 614-294-8168. NOV: Kate Morgan, figurative prints and drawings. DEC: Clinton Reno, illustrator.
JUNG ASSOCIATION GALLERY, 59 W 3rd Ave., 614-291-8050. T-Sat 11-2 (call first) or appt. NOV/DEC: ConTEXTual, a marriage of words and images in fine art featuring works by five artists ranging from painting to multimedia to photography, and expressing the context of our lives through the merging of words and images in visual art. The artists are Michael Bauza, Karen Iacovetta, Jo McCulty, Cassandra Peters, Sydney Schardt. Opening reception is Saturday, Nov. 8 from 12:30-2p; the exhibit closes December 20. Visit www.JungCentralOhio.org
LINDSAY GALLERY, 986 N High St, 614-291-1973. W-Sat 12-6, appt. NOV: Group show of Ohio artists from yesterday and today. Featuring William Hawkins, Elijah Pierce, Popeye Reed, Ashley Pierce, Morris Jackson, and many more. DEC: Lindsay Gallery 15th Anniversary Show: Opening reception Fri. Dec. 5, 6-9pm, featuring some of the gallery artists over the years: Karl Mullen, Bill Miller, Harry Underwood, and introducing John Taylor-Lehman. www.lindsaygallery.com
LUMOS COLUMBUS, 937 N. High St., 614-614-7449 Hours T-F 10-6, Sat 12-10, Sun 12-4. Lumos Columbus is a tech-art gallery intermixed with a start-up incubator. The space offers interactive and exciting contemporary art. Featured: Sophie Kahn, Brian Yetzer, and Kristy Balliet. www.lumoscolumbus.com

MAC WORTHINGTON GALLERY OF CONTEMPORARY ART, 749 N High St, 614-294-7790. Sun 12-5, T-Th 2-7, F-Sat 11-7. NOV: Living For the City, featuring the art of Mac Worthington and Rona Stelzer. Reception: Sat., Nov. 15, 6-9pm. DEC: Undertakings, featuring the art of Dusty Alexander, Kathy Burden, Diane Grumbach, Jessica Hatczel, Norm Mieczkowski, Daniel Miller, Vicki Murphy, Su Nimon, Joss Parker, Jan Peyser, Rocco Pisto, Lou Ratliff, Jennifer Shelton, Becky Slonaker, Lynn Spaulding, Rona Stelzer, Christopher Wilson, Mac Worthington, and David Yarnall. Opening on Gallery Hop. Reception Sat., Dec. 20, 6-9pm. www.macworthington.com
MARCIA EVANS GALLERY, 8 East Lincoln St, 614-298-8847. T-Sat 11-5. NOV: Atmospheric: New works by Matt Wolcott and Todd Camp. Todd Camp graduated with a BFA from CCAD and is celebrating nearly 30 years as an artist, juror, educator, lecturer, curator, and currently serves as the assistant director at the Cultural Arts Center. His current paintings are about the relationship between sky and color, tantalizing the senses. Matt Wolcott, an OSU graduate, currently lives in Maumee, Ohio. His strong sense of design and color makes his vibrant abstracts jump off the canvas with artistic motion and rhythm. He works mainly in oil on canvas but also does think oil paintings on paper. DEC: Holiday Salon Show. Visit www.marciaevansgallery.com to learn more.
*OHIO CRAFT MUSEUM, 1665 W. 5th Ave., 614-486-4402. M-F 10-5, Sat-Sun 1-4. NOV/DEC: Gifts of the Craftsmen: The Ohio Craft Museum's annual holiday sale features unique gifts handcrafted by nearly 100 artists from across the country. Holiday shoppers will find beautiful jewelry, functional pottery, wooden serving bowls and utensils, knit scarves and hats, and much more. Prices range from $4 stocking stuffers and $15 earrings to several hundred dollars for John Geci's glass vases, bottles and bowls. WINTERFAIR: Ohio Designer Craftsmen's fine art and craft fair held at the Ohio Expo Center on the Ohio State Fairgrounds, 717 E. 17th Ave., Fri., DEC 6 through Sun., DEC 8, the fair will attract more than 400 artists from across the country featuring ceramics, glass, wearable art, jewelry, sculpture, painting and photography. Visit www.ohiocraft.org
*OHIO ARTS COUNCIL'S RIFFE GALLERY, State and High Downtown, 614-644-9624. T 10-4, W,F 10-5:30, Th 10-8, Sat - Sun 12-4. NOV 6 - JAN 11: The Urban Landscape: A Tale of Grandeur and Abandonment, curated by Christine Fowler Shearer, explores a variety of artistic perspectives by 16 Ohio artists through original works. The 63 pieces reflect the fundamental nature of city life, focusing primarily on Ohio. Artists include Kelley Booze (Springfield), Christopher Burk (Columbus), Cole Carothers (Milford), Laurence Channing (Cleveland Heights), Bonnie Dolin (Aurora), Frederick Fochtman (Columbus), Ruth Gless (Columbus), Don Harvey (Cleveland Heights), Ron Kroutel (Athens), Michelle Muldrow (Cleveland), Michael Nevin (Akron), Ryan Orewiler (Columbus), Gary Pettigrew (Athens), Will Reader (Portsmouth), Thomas Roese (Cleveland) and John Troxell (Cleveland). www.riffegallery.org
PALNIK STUDIOS, 14 E Lincoln St, 614-298-8496. T-Sun 12:30-5. The Clown and The Sage/The Cartoon Art of Paul Palnik. The fine art of the cartoon. Palnik delightfully reveals the profound and the absurd. Paul Palnik's graphics, prints, and original drawings. www.paulpalnik.com

PIZZUTI COLLECTION, 632 N. Park St., 614-280-4004. Hrs: F-Sat 11-5. NOW-ism: Abstraction Today (Ends June 20, 2015) exhibition of 21st century painting, sculpture, video and furnishings featuring international emerging stars like Sarah Cain, Diana Al-Hadid and Florian Meisenberg and established artists including Columbus' own art star Ann Hamilton, Jim Hodges, Miami-based Teresita Fernández, Jason Middlebrook, Carrie Moyer and Pia Fries. More than 100 works spanning all three floors of the space. Ori Gersht: Portraits is a film series by the highly acclaimed Israeli-born, London-based artist. Fall 2014, a series of three video portraits will be on view, each connecting moments of quiet contemplation with difficult histories and anguished realties. Ron and Ann Pizzuti have collected Ori Gersht's work in depth over the last decade, but this focused show concentrates attention on only three films (each nearly 15 minutes in length). The Columbus Museum of Art will host a simultaneous show of Ori Gersht's photography and other works on loan from Pizzuti Collection. * Evaders, 2009 (on view September 5 – October 11) a poetic and heart-wrenching retelling of Walter Benjamin's attempt to escape Nazi-occupied France. * Will You Dance For Me, 2011 (on view October 11 – November 15) portrays Yehudit Arnon, a Holocaust survivor and founder of one of the most important modern dance companies in Israel, and her defiance while at Auschwitz. * The Offering, 2013 (on view Nov. 18 – Dec. 27) confronts the glamorous and treacherous world of bullfighting, its dazzling spectacle and often-gruesome outcomes. The Pizzuti Collection is a non-profit exhibition space dedicated to the presentation of contemporary art from the collection of Ron and Ann Pizzuti. Visit: www.pizzuticollection.org
PM GALLERY, 1190 N High St, 614-299-0860. Hours: T-Wed 11-6, Th-Sat 11-7, Sun 12-5. NOV: Autumn Leaves (And Returns Again). This exhibit includes new landscapes and abstract paintings by Michael G. Secrest, a graduate of OSU in Fine Arts and a co-owner of pm gallery. His work is heavily influenced by the transitional season of autumn. The color palette of reds and oranges is saturated and ephemeral. He is also influenced by the saturated tropical palette of Florida, which is more unchanging but sometimes harsh and brutal. DEC: The Last Of The Wild Beasts: Recent and not-so-recent paintings by Paul Volker. Visit www.pmgallery.com
RIVET GALLERY, 1200 N. High St., 614-294-8697. T-Sat 12-7; Sun 12-5. NOV: Looking From The Inside Out, featuring the original artwork of J. Shea, Patrick Maxcy, and Steven Russell Black. This show will feature 2D work from all artists. DEC: Pirates of the Isle of Misfit Toys - Johnny Yanok / Project Wall: Dan Goodsell and Michael Fleming. Solo exhibition featuring the original gouache work of Akron artist Adding to the holiday cheer, we will begin the first of our Project Wall series shows. This show will feature the watercolor small works by California artists Dan Goodsell and Michael Fleming. Visit www.rivetart.com to read more about the artists
ROY G BIV GALLERY for Emerging Artists, a non-profit gallery located at 997 N High, 614-297-7694. W-F 3-6, Sat 1-5. NOV: Work of Andrew McCauley and Carol Boram-Hays. Artists' talk on Sat., Nov. 22 at 2:30 p.m. Boram-Hays' compelling yet toxic sculptures explore our conflicted relationship with industralization. McCauley's scorched paintings portray the atrophy and memory loss caused by multiple sclerosis. DEC: Annual members' Small Works Exhibition featuring artwork smaller than 1 x 1 x 1 ft. Opening reception Sat., Dec. 6 from 7–10 p. Visit roygbivgallery.org
SEAN CHRISTOPHER GALLERY OHIO, 815 N High St, Ste H&N, 614-291-5890. 1st Sat. 6-10. Reg. Hrs: Sat 1:30-3:30, W-F 3:30-5:30, and M-Sun by appt. NOV: Spaceship Chrysalis by Jessica Ann, an experimental video short alongside an interactive, kinetic, installation. A native of Oklahoma, she is a second year graduate TA in OSU's Art and Technology Department. DEC/JAN: Kim Webb's sculptural installation. Webb, a CCAD grad, is gallery manager at Fresh A.I.R. Gallery. She will be guest juror for the 4th Annual Young Hearts Exhibition (an all-CCAD student juried show) February 7-28. She has been selected for a prestigious artist residency in Spain for 2015 supported in part with a grant from GCAC. Show hours include Holiday Hop, Dec 6, 6-10p, Gallery Hop, Jan 3, 6-10pm. www.seanchristophergalleryohio.com
SHARON WEISS GALLERY, 20 E Lincoln St, 614-291-5683 or 614-252-5137. Open Th 12-4, F-Sat 12-5, Sun 1-4. NOV: Latest Works by Frederick Fochtman. DEC: Rick Akers. Artists reception Fri., Dec. 5, 6-8pm. Visit www.sharonweissgallery.com
SHERRIE GALLERIE, 694 N High St, 614-221-8580. T-F 11-6; Sat 11-5; Sun 1-5. NOV: Elizabeth Kendall, porcelain sculpture and installations. Artist reception on Sun., Nov. 9, 3-5p. DEC: Holiday Hop Art Fair featuring six artists. Reception on Sat., Dec. 6, 12-8. Visit www.sherriegallerie.com
SHORT NORTH TAVERN, 674 N High St, 614-221-2432. NOV: Scott Steelman DEC: Grinch mural.
STONE VILLAGE CHURCH GALLERY, 139 E. 2nd Ave, 614-579-5493. NOV: Village Duets, a communal art exhibition by the German Village Art League. DEC: Ways Through is an exhibition cataloging a year of contemplation. The painting "Ways Through" for which the show is titled, is the second part of a narrative painting from last December's show "Ways Forward"(found on my website sonyalucas.com). The new works are about everyday life, spiritual transformation, death, and disappointment. In keeping with my larger body of work the paintings are personal illustrations and narratives about what it means to be. All of my paintings use coal dust as pigment for the dark tones and black within the images. Why coal dust? It is a bit of Appalachian alchemy. I have always been attracted to the timelessness of symbolist art. The symbols in these paintings are projected from my personal perspective as a woman, a feminist, and a native of West Virginia. www.stonevillagechurch.org
STUDIOS ON HIGH, 686 N High St, 614-461-6487. Daily 12-6, Sun 1-6. NOV/DEC: The Art of Giving: Small Treasures for Holiday Gifting: Studios on High Gallery member artists create treasures on a small scale in their style and medium. Visit www.studiosonhigh.com
TERRA GALLERY, 8 E. Poplar Ave., 614-228-4188. M-Sat 12-6p. NOV/DEC: Eclectic Salon Show. We are showing a concurrent exhibition at our new permanent Short North location at the Green Olive Company, 861 N. High. We will also be opening a second permanent gallery located in downtown Old Dublin February 2015. Due to this move, Terra Gallery will have a wide selection of artwork on display at sale prices. Visit www.terra-gallery.com
WHAT THE ROCK?!, 1194 N. High St. 614-294-9428. T-R 12-7, F-Sat 12-8, Sun 12-6. www.whattherock.com or call 614-294-9428.