Columbus, Ohio USA
RETURN TO HOMEPAGE www.shortnorth.com

The Birth of a Neighborhood
From Humko to Harrison Park
December 2004
by Cindy Bent Findlay
Return to Features Index
Return to Neighborhood Organizations
Photo/ Gus Brunsman III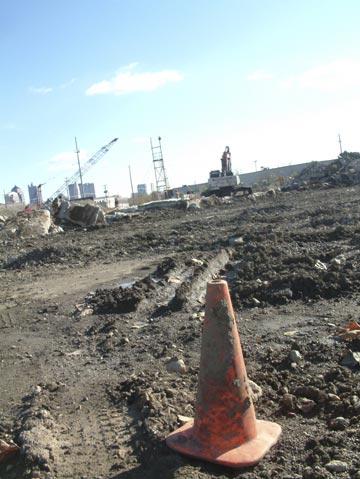 A churned-up muddy plain is all that's left now of the AC Humko factory, which stood for more than a century between Oregon Avenue and the Olentangy River in the Harrison West neighborhood.

The brick buildings, loading docks, tanks, and crumbling rusted sheds stood empty

for three years. For almost as long, since word of the plant's closing in 2000, neighbors anxiously watched as the city, teams of developers, and neighborhood stakeholders pondered the fate of the 310,000-square-foot factory.

Throughout the summer and fall, the massive buildings and miles of twisted pipeline were torn down and carted off. This winter and spring, the 13.5-acre parcel will be scrubbed of its industrial past and in its place, the sprouts of a new urban community will begin to emerge.

The dogged determination of the Harrison West Society to turn the blighted property into something good for the neighborhood has finally paid off, say area residents and Society officers. The Wagenbrenner Companies, a Grandview developer, will build on the property a new residential development that Society members, neighbors, and developers call a win-win for everyone.

"It's going to be dynamite," says Dave Butler, president of the Harrison West Society. "They've really got great designs, they went out and talked to people who live in the area about what we'd like to see in a plan, did research; and in my opinion, they have really done it right."

Harrison Park, as the new development is dubbed, has been designed to blend into the neighboring area and will be hard to distinguish from the historic Victorian homes surrounding it.

Perry Street, First Avenue, and other surrounding streets will be extended into the new development, comprising 220 rental units and 102 homes for sale. Of the homes, 64 will be single-family houses and 38 will be loft-style condos, ranging in price from an estimated $215,000 to $500,000.

The single-family houses will feature tall, elegant 3-story homes with brick and siding facades with new Victorian-style detailing and amenities like hardwood floors, second-floor laundries, stainless steel appliances, 9-foot ceilings, detached 2-car garages off of alleys, and front porches flush with the sidewalk.

Harrison Park will follow a condo-like ownership plan; all single-family home and condo owners will belong to a neighborhood association. Lawns, for instance, will be cared for by the association, although gardens are options for the homeowners to look after. Exterior renovations, from paint jobs on up, must be OK'd by the association.

Other bonuses include a community center with a fitness gym, outdoor pool, and coffee shop. The Wagenbrenner Companies has chipped in much of the land for a 5-acre park nestled between the development and the Olentangy River, re-establishing river access for the neighborhood and continuing the Olentangy-Scioto Bikeway all the way north to Worthington and south through German Village.

Although it should flow seamlessly into the neighborhood, Harrison Park will be a far cry from the land's historic use. The Humko plant was a vegetable oil refinery from about 1920 onward, producing edible oils and shortenings from soybean materials and employing 112 people. It was not an animal rendering plant, as some thought from the unpleasant smells which emanated from the factory. Those seem to have been mainly caused by methane gas, a byproduct of the breakdown of organic materials.

The development is technically a project of an investment partnership between Wagenbrenner and another food service manufacturer, Royal Tallow Holdings, which may have lent some credence to the rumor that Humko was a rendering plant. The factory was originally built in 1883 by Capital City Dairy, makers of "Purity Butterine," a margarine-butter spread. Since then, Sinclair Oil, Columbus Forge & Iron Company, Stokely-Van Camp, Dresser Industries, Washington Breweries, and finally AC Humko all occupied the site.

According to news items and to Mark Wagenbrenner, president of Wagenbrenner Companies, Memphis-based Humko decided to consolidate its operations into other plants nationwide rather than pour millions more into the century-old facility.
Humko Demolition

| | |
| --- | --- |
| | |
Even before the plant closed, the city began seeking future uses for the property. There was talk initially of the city of Columbus possibly purchasing the property and taking on the development itself, although city officials quickly stated that that was not feasible. Old factories aren't exactly desirable properties, and the prospect of the empty hulk rotting in the middle of the neighborhood, attracting crime and lowering property values, was a grim one.

"Brownfield redevelopment projects involve a high level of risk. There can be contamination in there, a lot of cost in cleaning it up, and there are liability issues to be addressed," says Gary Gugliemi, economic development manager for the Columbus Department of Development who works closely on the project. "Our job at city is to lessen that risk for developers, and get them to take the plunge."

Gugliemi says the city was able to use a combination of resources and incentives, including obtaining a $3 million cleanup grant from the state, tools to clean the site and win liability exemptions from the state's Voluntary Action Program, and $400,000 in funds for infrastructure through tax increment financing (TIF).

A tax increment financing or TIF package is also awaiting approval by City Council; Gugliemi is optimistic it will pass, providing about $4 million to improve streets, sewers, and other site infrastructure. Wagenbrenner and the development office are also asking the city to abate some taxes, which will give new homeowners a 75 percent property tax break for the next 10 years.

Gugliemi says the incentives were vital, because the investment in the project will probably top $40 million in the end.

Response from the neighborhood has been highly positive, according to Butler of the Harrison West Society.

"I think it's great," says longtime Harrison West resident Leeson Stewart, who lives near the Battelle campus in the house in which he was born. "We won't have all those trucks running around here. It's probably bad for the people who were working there, but it will run property values up again, and it's better than what was down there, that old body just sitting there!"

"It's exactly what we wanted: neighbors," Butler says. "They're the same sort of scale of house, same setbacks; it fits in, where these people can become a part of our neighborhood group, be active in it, and hopefully feel as good about the neighborhood as we do."

Butler says Harrison Park is much better than a previous developer's plan. An Arizona company planned to create a suburban-type subdivision with meandering cul-de-sac streets, gated off from the rest of the community.

Stiff and instant opposition from the Society and neighbors resulted in a quick exodus by that developer, says Gugliemi. He and Butler both credit Mark Wagenbrenner and the rest of the company for approaching the neighborhood and listening to the community's feedback from the beginning.

The resulting benefits are clear. The Harrison West Society will be able to use the development's community center building free of charge for its meetings. The 5-acre park, open to the entire neighborhood, earns kudos from all.

"I really can't think of anything we said we really want that they said we just can't do," Butler says." The mix of rental and owned homes, and pricing keeps getting even better! They're putting in even more single family or duplexes than originally called for. It's going to be very special for the neighborhood."

© 2004 Short North Gazette, Columbus, Ohio. All rights reserved.

Harrison Park, a 16-acre residential development, is proceeding in Harrison West neighborhood. Anchored by a four-acre park along the Olentangy River, the development will offer an eclectic, upscale mix of newly built single family homes, condominiums, lofts and apartments.

Visit their Web site at www.harrisonpark.com. For more information, contact Wagenbrenner Realty at 614-488-0671.