Columbus, Ohio USA
Return to Homepage www.shortnorth.com

Discovering a New Neighbor: MiSh Gallery
May 2005
by Jennifer Hambrick

Return to Features Index

Photos Gus Brunsman IIi
Alexandra Kruglyak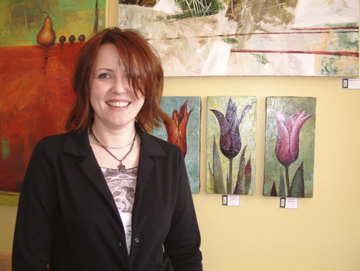 The galleries on High Street in the Short North have a new neighbor.

When the MiSh Gallery opened its doors at the corner of High and Starr Streets on April 1, it filled a gap in the Short North Market, artist and owner Alexandra Kruglyak, of Ukraine, said.

"A lot of galleries in the Short North go very contemporary," Kruglyak said. "We offer a more traditional look."

The gallery currently displays the two-dimensional work in many media, including oil and acrylic paint on canvas, pen and paper drawings and fedoskino technique, a painting technique traditionally used for creating Russian Orthodox icons. Pieces created from mixed metals formed into textured bas-relief images step just beyond the limits of two dimensions.

Kruglyak and the four other artists who sell their work through the MiSh Gallery hail from around the world. Dragan Dragich moved to Columbus at the age of three from his native Yugoslavia. The artwork of Pakistan native Babar Ahmad, Russian Elena Viznyuk and Fatima Azimova, of Uzbekistan, is also represented.

The MiSh Gallery's global roster of artists gives its art an international flavor. Dragich's oils of the Adriatic coast take the viewer to the seaside towns of his native Yugoslavia. The vibrant play of light captured in a hushed palette and broad, self-conscious brushstrokes gives Kruglyak's oils and acrylics of dancers, fruit bowls and natural scenes the scent of French Impressionism.

Viznyuk's fedoskino icons conjure the ancient rites of the eastern Orthodox Church, while her subdued still lives recall the Dutch masters in their level of scenic detail and concern for the brushstroke. Azimova brings traditional Uzbek figures to life in intricately detailed pen and ink drawings. Ahmad's forms of angels and Picasso-esque faces are alive in copper, aluminum and brass.

Kruglyak says this mix of artists, styles and media, though based in traditional techniques and representational aesthetics, offers the best of both worlds: decorative pieces in soft color palettes with a progressive feel. "We have very traditional training in art, but we also blend the traditional with the contemporary."

Dragich's canvases featuring patterned designs etched in tile grout and covered in soft-hued acrylic paints tread lightly into abstract modernism without losing the appeal of muted decorative work.
Chloe, by Alexandra Kruglyak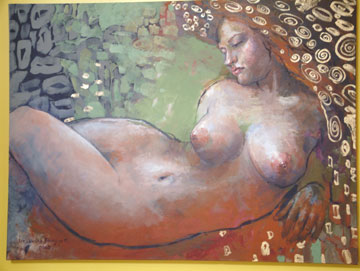 Although Kruglyak is a newcomer to the Short North, she is no stranger to the American gallery scene. Before moving to Columbus, she lived for five years in Birmingham, Alabama, where she displayed her artwork at several local galleries. It has always been her dream to open a gallery of her own. When friends told her that Columbus' Short North had a lot to offer, she packed her bags.

Still, she remains surprised by how deeply art is valued here.

"In many cities that I've been to there is no area exclusively of art galleries," Kruglyak said. "It's amazing how many people in Columbus admire that about the Short North. Here you can find so many unique things"

Editors Note: The MiSh Gallery was located at 997 North High Street, Columbus, Ohio. The gallery closed in spring of 2006. Visit them online at www.mishgallery.net

©2005 Short North Gazette, Columbus, Ohio. All rights reserved.