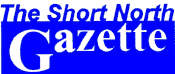 Let us hear from you!
mailto:shtnorth@netwalk.com
Return to homepage:
http://www.shortnorth.com
Lions and Tigers and Bears:
American Folk Art Comes to Columbus
By Kaizaad Kotwal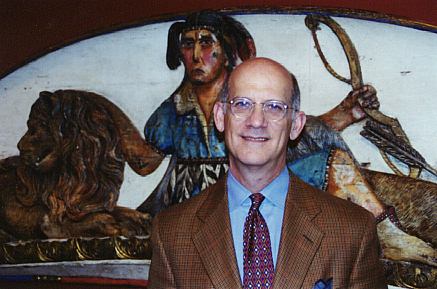 Irvin Lippman, Director of the CMA, loves the Shelburne show.
Who are these folk and what is their art?
The world of art is essentially a world of hierarchies and dualities, particularly in the western context. And this world of hierarchies determines what's in and what's not, who's hot and who's passé, and what belongs in the hallowed halls of museums and what is relegated to be left behind. It is curious, then, that a movement like folk art, which includes functional objects, untrained artists, and what once was seen as kitschy Americana, becomes not only "in," "hot," and museum-bound, but also begins to influence the formalist and more traditional worlds of painting and sculpture.
But to suggest that folk art simply encompasses functional objects created by formally untrained artists is to do a disservice to the depth, complexity and assortment of this movement. Moreover, there are sub-categories in folk art that further complicate matters. Environmental art, isolate art, memory painting, naive or "naif" art, outsider art, primitive art, and visionary art are all subsets of the larger world of folk art.
Environmental art includes large-scale works constructed outdoors in public and private spaces often using recyclable materials and found objects. The Watts Towers by Simon Rodia in Los Angeles are a great example of such art. Isolate art, also referred to as "primitive" or "raw" is the highly personal art of individuals who are isolated, physically or emotionally from the cultural mainstream. Grandma Moses is probably the most identifiable memory painter where the focus is on paintings that depict disappearing lifestyles, often of rural America. She also falls into the category of naive or "naif" art, although this is often used predominantly in the European context.
Primitive art, a colonialist term, groups together the art of indigenous peoples of Africa, Asia and Oceania. There are obvious problems with this term which is pejorative and racist, evidenced by the fact that American folk artists do not like to use this term in defining their work. Visionary art is often religious in theme and based in dreams, voices and visions and Columbus's own Elijah Pierce is a precise case in point. The most controversial of the subsets of folk art is the category of outsider art which includes the art of the insane and the incarcerated.
The aesthetics of folk art are as varied and radiant as their makers and collectors. It would also be fair to say that the academic and curatorial world of art is still working at defining and understanding the world of folk art. David Park Curry, in his essay "Rose Colored Glasses: Looking for 'Good Design' in American Folk Art" notes that "All kinds of things, functional and nonfunctional, suddenly were seen to possess inherent artistic value. They were found, so to speak, to be art."
One could argue that the interest in folk art is precipitated in some way by the work of the Dadaists, who were interested in creating a dialogue about the function and value of art outside of the world of objects created by self-consciously "trained" and "sophisticated" artists.
That terms like trained and sophisticated continue to be used in dialogue about folk art, still suggests that there is a hierarchy and duality in operation that are somewhat pejorative and condescending towards this movement. Not to mention that terms like primitive are ethnocentric and colonialist in their use to label the work of artists from places outside of Europe and the United States. Nevertheless, folk art, in all its diverse splendor is staking its claim at the very center of the traditional art world, and in moving from the fringes and margins of culture and aesthetics to the center, folk art is also helping to redefine and reinvigorate the traditional painters and sculptors.
The Columbus Museum of Art (CMA) is opening an exhibit on Folk Art Traditions titled "A Bountiful Plenty from the Shelburne Museum: Folk Art Traditions in America." This exhibit will cover many of the categories discussed above, but what is unique about this show is that it is the collection of one visionary woman, Electra Webb (née Havemeyer) who helped establish American folk art as a legitimate and serious field. According to Nannette V. Maciejunes, Senior Curator at CMA, the exhibit will feature 85 works in all from the Shelburne Museum in Vermont. Webb founded the museum in 1947 to "preserve our American heritage."
Casting a Webb Over Folk Art
What makes Webb an intriguing and visionary figure in the world of American art is the fact that she started collecting these artifacts and objects prior to World War I, long before these traditions had entered the public consciousness and much before art historians and scholars had turned their legitimizing gaze towards them.
Electra Havemeyer was born on August 16, 1888, the third and youngest child of Louisine and Henry O. Havemeyer who were great art collectors in their own right. The Havemeyers were people of immense wealth, made in the sugar refining industry, which allowed them to travel, educate their children, and collect art. Electra's mother was fond of collecting modern French painting while her father favored the works of the Old Masters and Far Eastern prints, porcelain, and bronze. Together, these two had amassed one of the most significant collections of European painting and Asian decorative arts in the United States. Electra obviously gained her appreciation of collecting objects and cherishing them deeply from her parents.
The Havemeyers traveled extensively in their hunt for the bounty of collectible art. In 1889 they traveled to the World's Fair in Paris to see the brand new Eiffel Tower. They were good friends with Mary Cassatt who painted a picture of a young Electra in her mother's arms.
In 1909, after her father had died, Electra wrote to James Watson Webb, her primary suitor that, "I would like to be so rich that I could buy any work of Art I wanted." Electra purchased her first piece, a Goya portrait for a "very large sum." But she would soon abandon the world of European art and cast her web for the next fifty years on American folk art. Electra wrote that "One day I was driving through the little town of Stamford, Connecticut and what should I see but a cigar store Indian. Well she spoke to me, I just had to have her. So I went in, and I said to the man, 'Will you sell me that cigar store Indian?' Well he looked me over and said, 'Have you got $15.00?' I said, 'No, but I'll get it.' ... So at any rate ... I came down with our old foreman of the place and the wagon and brought her home to my mother. Well ... if you could have seen my mother's face! She said, 'What have you done!' And I said, 'I bought a work of art.'"
Electra and her mother would continue to have a contentious relationship over their diverse artistic traditions. This is epitomized when Louisine Havemeyer visited her daughter at the Westbury house, and gazing at her hooked rugs, rustic furniture, and wooden carvings said in frustration, "How can you Electra, you who have been brought up with Rembrandts and Manets, live with such American trash." This exchange in many ways is the crux of the hierarchy of the art world, prior to folk art gaining currency in the hallowed halls of European domination.
If You Build It, They Will Come
Electra's collecting would turn into an obsession. Early in her collecting years, Electra toyed with the idea of building a museum for her ever-growing collection. But her very busy life as an East coast socialite, her husband and children, and the Second World War (in which she served with the Civil Defense Volunteer Organization) would postpone that dream until 1947 when the Shelburne Museum was incorporated.
Electra's passion for collecting turned into an obsession with trying to salvage and preserve any part of Americana that she could. She had moved on from decoys, rugs, quilts, glassware, hat boxes and sculpture to entire buildings (barns, school houses, private homes), covered bridges, and even a lighthouse and a boat (the "Ticonderoga"). She would dismantle abandoned buildings in New England and New York and have them reassembled at the museum's estate in Vermont. The museum grew in scope and popularity far beyond Electra's folksiest dreams. In her lifetime, the Shelburne collection included 60,000 objects exhibited in 28 buildings.
In reminiscing about her mother, Electra recalled that, "After my mother died she left us children some notes and there was one sentence that impressed me very much. She said, 'Children, remember how blessed you are and if opportunity ever offers, equalize the sum of human happiness and share the sunshine that you have inherited." Webb's visionary ideas, embodied in her collection and the museum, continue to do that to this day.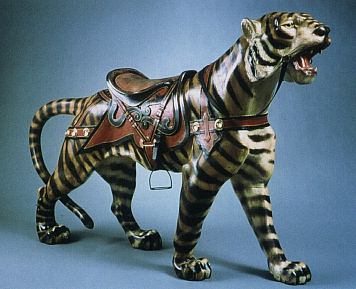 Tiger, before 1903, carved by Daniel Muller (1872 - 1952), for Carousel Co.
Taking the art to the folk
Senior Curator at the CMA, Nannette Maciejunes, said that "There are three ways in which a museum gets a show. One is to organize the show ourselves. The other is if we are contacted by another museum about a show that they have based on the strength of our collection. And the third way, by which we are getting the folk art show, is through exhibition touring services which package tours and send them cross country."
"The Shelburne Museum collection which we are getting," said Maciejunes, "has actually been at the National Gallery in Washington, D.C. in 1988, but they only had the highlights." In addition, the National Gallery show had no paintings from the Shelburne as the CMA show will have. Irvin Lippman, Director of the CMA, was at the National Gallery when the Shelburne show was there and he has "long since been enamored of the show."
Maciejunes speaks effusively of folk art but of Electra Webb in particular. For indeed this show, and much of the legacy of folk art in America, would not exist without the immense vision and contribution of Electra Webb. For Maciejunes the impulse behind the rise of folk art as a legitimate artistic tradition lies in "Amer-ica passionately searching for self-definition in the wake of World War One."
The CMA show, in addition to the 85 objects themselves, will include a video and visual to acquaint the audiences with the Shelburne and with Electra. The traveling show, which is premiering in Columbus, has been thematically organized into four sections that will range from talking about the traditions of folk art, the context of such objects, and Webb's collection from the Shelburne.
Elijah Pierce, a Columbus native, is a renowned folk artist and one of the CMA's most popular draws. Thus, the CMA already has a gallery tradition of exhibiting folk art, and the Shelburne show is another feather in the CMA's cap. Of course, our city's museum is also tapping into the popularity and interest in folk art that already exists out there.
Under the directorship of Lippman, the CMA has been bringing together an interesting diversity of shows that range from the Old Masters to the decorative arts (the immensely popular Dale Chihuly exhibition) and from photography to the upcoming folk art show. Lippman believes that "Folk art really belongs intermingled and not segregated" from the other aesthetic traditions. "Trying to program the museum is constantly challenging," explained Lippman, "as we try to expand our definitions of ourselves."
Lippman believes that this show will have a "very broad audience appeal from the connoisseurs who collect folk art to those who have not really had an opportunity to see such work." He also feels that this show will have a regional appeal far beyond Ohio, which is perhaps one of the reasons the Longaberger Company is the Lead Sponsor of the show.
The objects in the show, from coverlets and decoys to carousel figures and quilts, because they are so much a part of our lives means that the show will be more accessible. But Lippman believes that while it is important to break down barriers in the art world, "everything can't be for everyone and you can't appeal to the lowest common denominator."
Lippman believes that in the museum world there is often a "high expectation of patrons to rush through the history of art." "I would be happier," explained Lippman, "if they saw just one piece that spoke to them on that particular day. Some days it's a Monet and on others it's a coverlet."
The long-range plans of the CMA, over the next 10 to 15 years, include a discussion on what direction to take the collection - whether to expand its scope or to concentrate in certain areas. Lippman wants the museum to "continue to take its educational function very seriously." With distance learning and other new emerging technologies, the museum can take the art to the teachers. The museum also continues to work with artists in her sister institutions like the Columbus College of Art & Design, the Wexner Center, and The Ohio State University.
The museum also has expansion plans on the table, and an architect will be chosen by March 2001. This, of course, means that the museum's operating budget will have to expand from its current 7 million dollars a year. "Seventy percent of this comes from contributed income," said Lippman, "and the rest is from endow-ments, modest government grants, and earned income."
Lippman takes his job as a museum director and art historian seriously and believes that the world outside of art needs to be told more about the relevance of art "outside of its extracurricular functions." "We are good at talking about experience," he said, "but we need to do a better job in presenting quantitative information" about the effects of art on individuals and society at large.
As museum director, Lippman is firm in the understanding that "we are unquestionably a business." Having come to the CMA after successful stints at the Amy Cartworth Museum in Fort Worth, Texas and the National Gallery in Washington, D.C., Lippman sees a lot of potential for great things in Columbus: "With the development of the arena we need to develop the other bookend," referring to the area that the museum occupies, "and to see everything in between filling up." This project gives him a lot of hope and excitement.
Lippman believes that the museum "is a very special world, and we have to constantly find new ways to welcome the visitor, to create the stage where the audience is the star." The folk art show from the Shelburne promises to be a very exciting stage, filled with immense beauty and an overwhelming sense of history because each object comes with its own narrative - a story about the time in which it was made, the space it occupied, the function it fulfilled, the person who made it and the people who were impacted by it.
As part of its opening celebrations to be held on November 5 from 1-3 p.m., the museum plans to auction 12 objects of folk art, according to Maciejunes. These are not from the Shelburne but "have been donated to the museum by dealers and owners."
In addition to some unknown artists, the show features the work of painters like Edward Hicks, Erastus Salisbury Field, William Matthew Prior, and Grandma Moses. Makers of cigar store and carousel figures include Samuel Robb, John Cromwell, Louis Jobin, and Gustav Dentzel. Eagle and bird carvers include Wilhelm Schimmel and James Lombard, the noted weathervane maker.
"A Bountiful Plenty from the Shelburne Museum: Folk Art Traditions in America" will be showing at the CMA from November 3, 2000 to February 4, 2001. It is not only an incredible exposure to the varied traditions of folk art but also an insight into the life and mind of an incredible woman, Electra Webb, whose own story is deeply embedded in every object on display. The movement of folk art into the center of academic and curatorial discourse on art suggests that Susan Sontag was dead on when she observed that "the world is, ultimately, an aesthetic phenomenon."