Short North Gazette Cover Story November 2004
HOMEPAGE www.shortnorth.com
Wake Me Up Before You Go-Go!
A look at the life and work of Daniel Snouffer

By Kaizaad Kotwal
email kaizaadkotwal@yahoo.com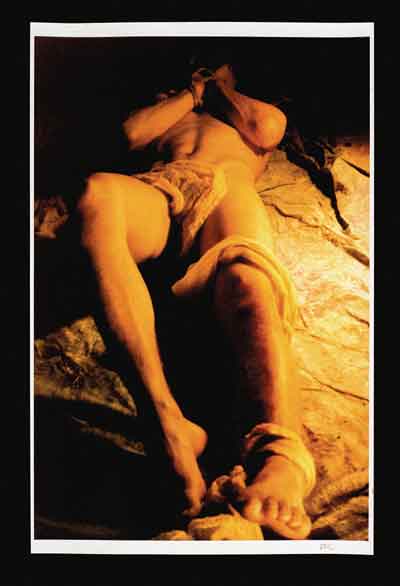 As I walked into Curio-a-Go-Go on a sunny summer morning, I was greeted by the mellifluous tones of Diana Krall's soft, sultry voice singing "S Wonderful," a classic by George Gershwin. Smells of ginger, lavender and vanilla emanating from the various soaps, candles and other perfumed goodies permeated the air in this basement store. Then, like her namesake, the store cat, Miss Eartha Kitt, slunk from beneath a counter and gazed intently at me, the intruder.

Pitch-black Eartha, a "needy, loving stray" came one Halloween to artist Daniel Snouffer, who owns Curio-a-Go-Go with his partner of 11 years, Mike Wharton. Snouffer and Wharton have four more felines at home – Gracy, Mamma Kitty and Lulu and Trixie, the twins.

Artistic touches can be seen around the store, from the quirky and eclectic decorations to the icons, paintings and photographs. Snouffer sat down with me in one corner of the shop to chat about his photography and life.

Originally from Indianapolis, Snouffer moved to Columbus 22 years ago to attend the Columbus College of Art and Design (CCAD). This move allowed him to come into his own as a young man and an artist. Snouffer was studying advertising and the fine arts when he accidentally stumbled into the world of photography during the school year of 1985-86, the first year CCAD offered a major in photography.

Snouffer had wanted to pursue his artistic dreams and self-actualization in New York City or at Rhode Island School of Design in Providence. But he made a compromise with his parents and moved to Ohio, close enough so that they wouldn't worry too much and they could visit. Besides, Snouffer was given a partial scholarship to attend CCAD.

Snouffer said he eventually ended up in photography, away from advertising and fine arts, because he didn't like the competitive, cutthroat world of ad art, where artists usually have little control, often becoming mere cogs in a production line. "I didn't know if I had the temperament to pursue advertising."

"I took a class in photography, and it was quite unexpected when it totally clicked with me," Snouffer said. He gained respect from his teachers. Black and white has always had more cache in the art world, but when Snouffer took a class in color photography, he found himself going "in a totally different direction."

Snouffer's work has almost always been in the figurative vein, including one of his earliest series of works, in black and white, which he calls groundbreaking in his genesis as an artist. When Snouffer was leaving for art school, he found a doll that belonged to his sister Elizabeth, who died of leukemia at the age of 4.

He remembered his sister playing with the doll when he was small, and he decided to take it with him to CCAD. The doll, which Snouffer named Sweet Baby Seat Belt, has been through a lot. She often rode with him in his car, buckled in on the front passenger seat – hence her name. He started to use her in his early works at CCAD and created a series of eerie, surreal stills starring Sweet Baby Seat Belt.

In one of many powerful images, Sweet Baby Seat Belt sits on a somewhat dilapidated sofa. Next to her a man stands in his underwear. His face is cropped out of the frame and his hand is on his genitalia. The image has a palpable sexual tension and the bond of innocence and lust is deliberate. Yet the image is not overtly crude or distasteful. Rather, we are forced to grapple with the insecurity of the man's own sense of his sexuality. Is he clutching his genitalia in lust or out of shame, out of insecurity with his identity, his body?

Snouffer believes that the picture identifies where he was in life at the time. He struggled as a youth with his own sexual identity, and was wracked with insecurities and a sense of shame about his body.
He has often struggled with other people's hang-ups about the male form as well. This was especially problematic in the 1980s when he was creating images like the man and Sweet Baby photo, because the nude male had not yet been liberated from puritanical propriety. "The female form has always been so embraced," Snouffer says. In fact, throughout the history of art, the female form has been seen and used differently than the male form – not just sexually, but visually as well.

(As an aside, it's worth noting that Europe's attitudes in the past hundred years or so vis-à-vis the male and female forms have been more liberated than in the United States, which suffers from a lingering neo-Puritanism. One can only imagine the real furor at this past year's Super Bowl half-time show if, rather than Janet Jackson's bustier, an underwear-less Justin Timberlake had had his trousers fall victim to the now-infamous "wardrobe malfunction.")

Snouffer says that he still struggles to decide "how much nudity to reveal" with both male and female forms in his art. This aesthetic quandary has actually aided the artist in creating works that are never about nudity per se, but much more about form, atmosphere and storytelling.
Snouffer used to rent a studio in the Buggyworks building before the Nationwide Arena project forced the entire area to go upscale and many artists were chased out (subtly and not so subtly) by financial pressures and greedy landlords. Since losing space in what had become a veritable artist's colony, he's been using Curio-a-Go-Go as a makeshift studio – when the store is not open to the public, of course.

Like most artists, Snouffer would "love to have the luxury to make art full time." However, few artists anywhere, especially in Columbus, are that blessed. He used to work as a visual merchandise specialist for Lazarus to help pay the bills. When he was in Key West, "living the Bohemian life," Snouffer made "great money doing odds and ends." These days his store affords him an income to live on, enabling him to create his art on the side.
When working with his models or still-lifes, or creating one of his collages, Snouffer lets the music of Ricky Lee Jones, Marianne Faithfull, Yoko Ono, Joni Mitchell and others transport him to a place where the creative juices run wild and free. Sometimes he works to jazz and classical, taking him back to his days in art school where he grew to love the earthiness and raw power of those musicians.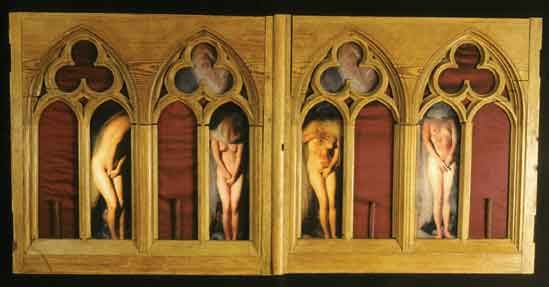 Many of Snouffer's images also have that raw power and earthiness that comes not only from his palette of burnt umbers and corroding siennas, but also from the environments in which he shoots his subjects. One of his trademarks is wrapping his models in shrouds made of cheesecloth dyed and stained with tea. These shrouds lend an air of mystery to the figures, and allow the viewer to focus on the photo's storytelling rather than the
recognizable visage of the model.

"If people saw the faces they would respond to the personality and not to the essence of the figure or the form," Snouffer says, adding that he likes to "treat the human form like a landscape." Writ on those human landscapes is a volume of meaning and significance.

The shrouds and many of the poses toward which Snouffer gravitates also evoke a strong sense of religious iconography, from the crucifixion and resurrection to the Shroud of Turin and the tombs of ancient Judea. All these elements and choices give Snouffer's work a timeless quality.

Snouffer said that he edits his work during the photo shoot – he doesn't crop and compose in the darkroom as most photographers do, but crops, frames and edits as he lets the shutter click.

Another unique element of his work is the paper upon which he lets his final images rest. Snouffer prints his photos on handmade papers, which are much more textured and vivid than regular photo paper. This technique gives the works a mesmerizing, painterly quality; the duality between paint-like texture and photo-real image creates a tension within the frame. The handmade paper also artificially allows the works to bask in a patina of aging and textural decay.
"I am drawn to anything that has aged," he says, "particularly because of the feeling of warmth that age gives you." The works are left with torn edges, which further suggest that aura of antiquity.

In many ways, Snouffer is from the old school of photography and comes across as a neo-Luddite in this age of digital cameras and computer-manipulated imagery. "Technology scares me," he says. "I am the poor man's photographer because I still use my 35mm camera of 20 years and I don't use too many lights and other contraptions."

Snouffer is one of the few Ohio artists whose work is in the permanent collection of the Columbus Museum of Art, quite a feat for someone so young. Not surprising though, given his talent and technique.

At 43, the atrist is creating some vivid collages. Snouffer wants to continue to expand his imagery by shooting more landscapes and still-lifes. Most of all, he dreams of publishing a coffee table book collection of his works. Given the technical and aesthetic superiority of Snouffer's images, this should be a dream come true sometime soon.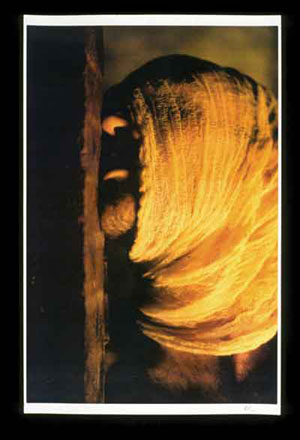 Meanwhile, Snouffer takes great pleasure in running Curio-a-Go-Go with Wharton. The space is constantly evolving, in both layout and the merchandise. What began as a store that sold antiques, soaps and stationery has become more eclectic over the years.

"We were the first store in the neighborhood to mix the old with the new," Snouffer says. "What also gave us a jump start," he adds, is that Wharton and artist Robert Moore "came up with fun and cool graphics by which the store could be identified," and their work has garnered a number of awards.

The shop also has received recognition in the past from Citysearch.com for "Best Offbeat Finds" as well as the designation of "Best Shopping" in the Short North by Columbus Alive, and is considered a great place to buy soap, according to Columbus Monthly.

At least once a year, Snouffer and Wharton visit trade shows in cities like San Francisco, New York and Chicago to find new merchandise. Even though the economy has been sluggish, and demand for luxury soaps and candles may suffer in tight times, Snouffer seems pleased with the way things seem to be picking up.

Many of Curio-a-Go-Go's customers become regulars and develop brand loyalties. There's a waiting list for products by Botibo, whose soaps and lotions have been selling faster than Snouffer can stock them. Equally popular are the zany refrigerator magnets and the music CDs they stock.

In the near future the store will branch out into beddings and men's and women's nightwear from the Dirty Linen line. And after the recent demise of Functional Furnishings, Snouffer and Wharton have plans to add more furniture to their inventory.

The two owners also do interior design on a freelance basis for homes and retail spaces. This part of their business has been on the rise in the past year. All in all, Snouffer seems pleased with where he and Wharton are in art, life and business.

As I left Curio-a-Go-Go, Miss Eartha Kitt purred loudly and jumped into the creative hands of her owner. Krall was still crooning over the sound system in her sultry tones as I left the artist to continue with his life on the go-go.

Curio-a-Go-Go is located at 17 Buttles across from the Coffee Table. They can be reached at 614-280-0780.