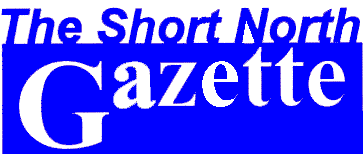 Return to Home Page:
http://www.shortnorth.com
December 2001
COVER STORY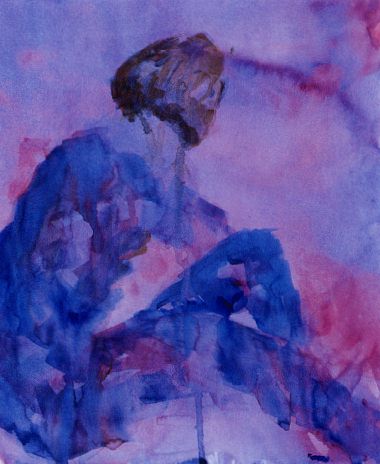 Rachel Stern
- Out of Her Mind: Imag(e)inations
By Elizabeth Ann James
Artist Rachel Stern's second one-woman show, "Imag(e)inations" will open at Michael Orr Gallery, 1331 King Avenue, on Sunday, December 2, from 2-4 pm. The show will run through December 31. The entire gallery space at Michael Orr will be given over to Stern's work.
The title "Imag(e)inations" derives from Stern's ability to transform: the artist is able to forge actual, momentary observations into unusual and imaginative oil and watercolor paintings. The show will consist of around forty-five recent paintings, beautifully framed. Michael Orr Gallery should prove a superb venue for the exhibit.
Painter!
Rachel Stern is a direct, capable, and imaginative artist who appreciates the ordinary world. Her strong sense of design, her skill at color and composition, are infallible. She tends toward minimalism. In poetic jargon, one might say she paints plainstyle. It's a gift, being able to paint that way, making simple compositions imaginative. Each painting manages to convey a quick, strong, first impression.
Stern admires Cézanne's "colors and shapes, the way he turns perspective." Although she eschews labels, she describes herself as "well, maybe, expressionist. I paint expressions."
I first saw "a Rachel" at Sharon Weiss's Antiques and Art on Poplar. Her watercolor Stormy blew me over! Through Stern's nimble arrangement of soft-but-vibrant colors, I saw Stormy at once: the tall long-haired woman stands bravely amid the tempest. She and her storm - a hurricane, an ocean, or a thunderstorm, no matter - were composed entirely of quick watery brush strokes informed by Rachel Stern's imagination.
Tall Women
Each of Rachel's paintings contains a nugget of lyricism and mystery. Many of Stern's subjects (she's a people person and paints people) have their backs turned. That's puzzling!
The artist explains: "I admire strong women. I try to be one. I'm not very tall myself; perhaps that's why my women are tall. Yes, the turned heads suggest indifference, independence.
"But, even more, I want people to have their own ideas about my work; I leave room for interpretation. I often use states of mind, like Introspection, for my titles ... Again, I paint expressions."
How She Paints and Why
"At restaurants, on daily walks, I look at people and make very small sketches.
"My quick sketches transform into something very different - and more than once. I see the white-haired woman laughing and talking. I make a sketch, just a few lines, perhaps.
"Back at the studio I paint a watercolor that stems from that sketch. Later, I may transform the watercolor image into an oil painting. And the oil painting will be very different than that!
"The images come from my head, inside me, as I look at patterns, color lines. Once in awhile, I use pastels with my watercolors. The pastels, when wet, becomea kind of watercolor. Vivian Ripley is excellent at that."
A Blue Lagoon
Blue Lagoon Contemplation presents a seated woman, the back of her stylishly short-coiffed head turned toward us, her face turned away. She is definitely wearing denim jeans and a blue jacket. The artist's broad washy strokes allowed me to decide.
Blotchy soft dark blues insinuate everything. The blues mingle with a spectrum: washes ranging from pink-reds to lavenders. The sky, or the background, is a wash of spilled wines and Mediter-ranean blues. I swim in it.
The woman is lost in her own dreams, or an art room, or the shore of a lagoon, or all of the above. It's up to you.
Millinery Magic
Some of the most fetching "Imag(e)inations" are a cluster of "hat" paintings. They began in France. Later, Rachel was window-shopping in Upper Arlington when she spied the magical windows at Over My Head. It was love at first chapeau!
"I fell in love with hats in Paris," she said. "I painted them. The hats I saw in Over My Head enchanted me. Hats tell us who we are and what we're doing and vice versa. These hats aren't vintage and they're not ballcaps! They're all new, but no ball caps. I wear hats; they're fun! Useful and pretty."
Culinary Magic
At Brio restaurant, Stern was fascinated by the open oven and the Chef's ability, not only as a gourmet chef, but as a juggler! Again, the brush strokes, including Stern's favorite orange, arrange and rearrange themselves.
The Brio series was painted on Yupo, plastic paper: "I love it when the paint moves around even more," Rachel says.
Recently, Stern saw a young couple dining in a fast food court. "They were laughing and talking and that gave me images. Such a good time. In that series you'll find bright happy images! Again, a watercolor becomes an oil."
Rachel saw a large man guzzling beer from a can. He was having a great time. His Crew shirt glowed. Rachel's title: Beer Here!
"Mildred" is brashly redheaded and green shirted; she has a lovely but tough face. Her "echo" watercolor with shaved pastel, also wears green, yet seems ethereal and sad. As though painted under water.
Rorschachs and Dreams
There is something miraculous in Stern's watercolors; they seem casual, random, yet their representations are deliberate. Watercolor women appear and disappear as strokes and washes rearrange themselves to the mind's eye. It's a kind of trompe l'oeil. These watercolor women are like Rorschach women. Their creator knows exactly what both of them are up to!
"From dreams? No," Rachel says. "But sometimes I work on a creative problem and carry it around for a long time. One morning I wake up and I know. My subconscious discovered the solution. But actual dreams don't inform my paintings.
"No, I'm not a moody person. In February when things look dreary I sometimes get down, but I can make a painting and feel better."
The Days of Her Lives
Rachel has always loved art and worked at it. Her parents took her to museums. When she was thirteen, she attended the Chicago Art Institute. After high school, she went to the University of Maryland. She has recently been juried into shows at Schumacher Gallery, Watercolors U.S.A. (Springfield, MO), and The Ohio Art League. Her work has appeared in group shows at Lanning Gallery, Antiques and Art on Poplar, and Strada. She has shown frequently with the Central Ohio Watercolor Society.
Rachel's husband Robert has been successful at his executive search business, and the couple have a beautiful forested home in the greater Worthington area. Rachel and Bob lived in Brussels, Belgium, for five years and moved to Colombus in 1982. In Belgium, Rachel saw many European museums and shows.
"I love Rembrandt, Hieronymus Bosch and the tradition of the low countries," Rachel says.
When their children, Derek and Andrea, were small, Rachel stayed home. She didn't spend long periods of time painting, she says.
"But I've always done something else. I became a docent at the Columbus Museum of Art. I loved it then. I love it now. I worked part time at the Worthington Library for eight years and continued being a docent.
"I'm still a docent, and now I can spend huge hunks of time painting. I like to get up in the morning and paint.
"We collect art. Both of us work at home. My studio is upstairs. We meet at the watercooler. Bob is a good critic. If he doesn't like something, he says so, and that's OK. I'm working hard; I enjoy my life.
"Now my own children visit museums and have a strong appreciation for art. Having to juggle art, family, and work in the past, left me with a strong sense of organization that is helpful now.
"I attend classes at CCAD. I love my classes and work hard at them. Right now it's life drawing and oil painting."
Columbus Museum Days
"I'm an enthusiastic docent. I'm there every Thursday! ... What's new? The Re-Installations at the Columbus Museum of Art. The space is even more wonderful than before. The American painters, the Impressionists and the old-masters, hung salon style. New paint, new corridors. The pre-Columbian exhibit is wonderful, and the contemporary works. Director Irving Lippman played a strong role in all of this."
Literature and La Queue
La Queue, the family pet, is a smallish Maine Coon Cat, à la Cat Welfare. He has front claws. His tail, of course, is a "q" &endash; like customers in a curved line at the seafood counter.
"He's polite and friendly," Rachel said. But I saw only the tail vanishing.
Bob chuckled "He has a feather futon and sleeps twenty hours a day. It's a cat's life."
The heart or he(art)h of the Stern home is an art piece, a blue and white porcelain tile stove from Belgium. "It would keep us warm if we chose to use it," Rachel said. "But its centuries old. We like to look at it. So does La Queue."
Rachel's favorite leisure pastime is reading. "I mainly read English mysteries you have to think about. I like Ruth Rendall, P.D. James. Stories set in England - I read Sue Grafton too. Right now I'm reading a great non-fiction, Rembrandt's Eyes. About Rembrandt and painting, of course ... Lately I've begun reading poetry, Mary Oliver and Jan Graham."
Purple Mountains Majesty
Robert Stern photographs the many deer outside. Sometimes he has seen foxes. He plants hostas away from the house so the deer don't eat the garden flowers.
Many of Rachel's paintings depict women or couples. But a large oil, Purple Mountains Majesty shows a man, Robert Stern, looking out the studio windows at purple mountains which are really his own foresty back yard. In bright blue jeans and a red sweater he is tall; and, like Rachel's heroines, has his back toward us.
Rachel Stern's paintings are magical. So is her artistically organized life. Her career should continue to blossom.
P.S. From Rachel With Love
One of Rachel Stern's first mentors, John Behling, and her friend, fellow artist Bernice Koff, will show at 2Co's during December. Behling's own remarkable paintings will show at Civilization, the exciting new Clintonville Gallery located at 3520 N. High, until December 26.