Columbus, Ohio USA
Return to Homepage www.shortnoth.com
Return to Features Index
One Woman's Odyssey . . .
Carol Farmer
She's a dynamic businesswoman, a consultant to world-class corporations, and an artist to be reckoned with.
Her work will be on view at Gallery V starting May 19, 2000.
What a life this lady leads!
© Sisley's Poplars and Breton Village by Carol Farmer

| | |
| --- | --- |
| | |
She has offices in Boca Raton, Florida, and Quimper, France. That's in Brittany. On the coast, near the ocean. She flys back and forth a lot, but not too much.
She's one of the world's leading futurists and consumer trend analysts with a visionary talent which gives her the ability to translate people's lifestyles and behavioral changes into business lingo.
Some of her clients have included Charles Schwab, American Express, Wal-Mart, and Sears. She is also a Director of two NYSE companies, The Sports Authority and Lowe's Companies, Inc. Measured in business terms, is this success, or what?
But that's not all. She is an accomplished artist. Last fall she had a one-woman show in Philadelphia. The exhibition, titled "Voyageurs/Voyeurs," contained 60 recent works inspired by trips to Australia, Indonesia, and the Spice Islands. Earlier in the year, she had another one-woman show at the Chelsea Arts Festival in London, England. This summer, her work will be on display in Amsterdam.
Her name is Carol Farmer. She's 53 years old, Columbus-born, and she's going to have an exhibit of her paintings and drawings at the prestigious Gallery V in the Short North from May 19 to June 24, 2000. The opening reception will be May 20 from 6:00 pm to 8:30 pm.
Carol graduated from Upper Arlington High School in 1962, and obtained her Bachelor of Arts degree from DePauw University in Greencastle, Indiana in 1966, majoring in Fine Arts and English.
When she was 26, Carol co-founded a retail planning firm here in Columbus now known as Retail Planning Associates. A few years later, she moved to New York City where she became Executive Vice President of Lerner Stores, then Vice President of Market Development for Primerica, currently a part of Soloman/ Smith Barney. Finally in 1985, she realized one of her dreams by starting her own consulting firm, Carol Farmer Associates.
In 1991, she bought a farm in Brittany, on the coast of western France, and began painting en plein air, inspired by the land and seascapes, exactly where the French masters Monet and Gauguin once painted. Not one to idle her time away, Carol spent eight years restoring several 17th century barns, converting them into manor house and studio.
A few years back, Carol changed artistic direction and began working in collage. And, as a photographer and computer graphics expert, these collages combine digital images, found objects, as well as painting. She sees this work as a metaphor for the complex modern world which she observes all about her, labeling the result "Fusion Painting."

It's pretty easy to suspect that art is Carol Farmer's overwhelming love in this world. Works to be shown at Gallery V demonstrate this clearly, especially those done in the vicinity of her studio in Brittany. Ever the one to bring life into sharper focus and observe it in more than one dimension, Carol diligently jots down her thoughts while on painting junkets around the French countryside, sometimes ranging as far afield as Greece and the Ionian Islands.
© Seascape by Carol Farmer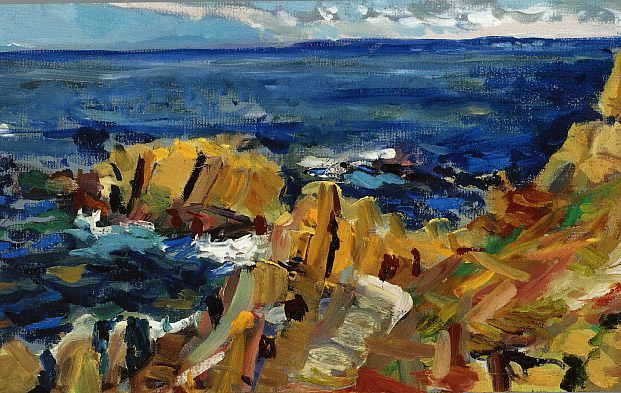 On a June day at Moret-sur-Loire she muses: "Painting today was more relaxed. I was happy painting, even with the interruptions galore from the passers-by walking a veritable cavalcade of mutts out having a great afternoon promenade." She observes that "German shepherds-gone-wrong face off with terriers of all combinations," leading to "feisty confrontations subdued by leashes and loving words from proud parents." She mentions that she misses her own dogs.
On a trip across Greece, she paints but is also attentive to her journal. Like most good artists, Carol is sensitive not only to people but to nature. In the countryside near Corfu, she is excited by the beauty of ancient olive trees with their twisting trunks and distinctive gray-green texture. Near Thessalonika, in a tiny hillside village off a track just wide enough for one car, she "could have painted in any direction." And, a while later, she writes of achieving total peace, "of being at one with oneself and the place, and enjoying the painting."
In Paris, after viewing an interactive exhibit in Auvers-sur-Oise, where Van Gogh completed his last paintings, she discovers that she is drunk on impressionism. "I am still thinking about how symbolically visionary the impressionists were," she writes. Then she ponders what they would be doing if they were alive today. "Scientists of beauty that they were, would they be working in technology or paint? On Power Macs or canvasses?" She follows these provocative thoughts to the conclusion that today's computer is the equivalent of the train that carried those earlier artists into the countryside. Then she asks, "Would it now carry them into cyberspace?"

Well, you can see for yourself that this modern lady is living an active and highly productive life. And, as if all that weren't enough, she turns heads. You'd never guess her age, which really isn't all that old anyway, is it? She's trim, radiating energy and good will. And to top things off, her father is Eddy Farmer who, along with his wife, Jeannine, is a widely recognized wildlife photographer. And next year, if things work out ok, she's going to have a father-daughter show with him at – you guessed it – Gallery V!
EDITOR'S NOTE: Born in Columbus, Ohio, on August 14, 1944 to the late John Edwin Farmer and Ruth Cooper Farmer, Carol died, unexpectedly, of a massive stroke on June 19, 2004, in Delray Beach, Florida, while visiting from her home, Brenguelven, in Landudec, France. Gallery V, located at 694 N. High Street in Columbus, closed in 2006.
© 2007 - 2015 Short North Gazette, Columbus, Ohio. All rights reserved.